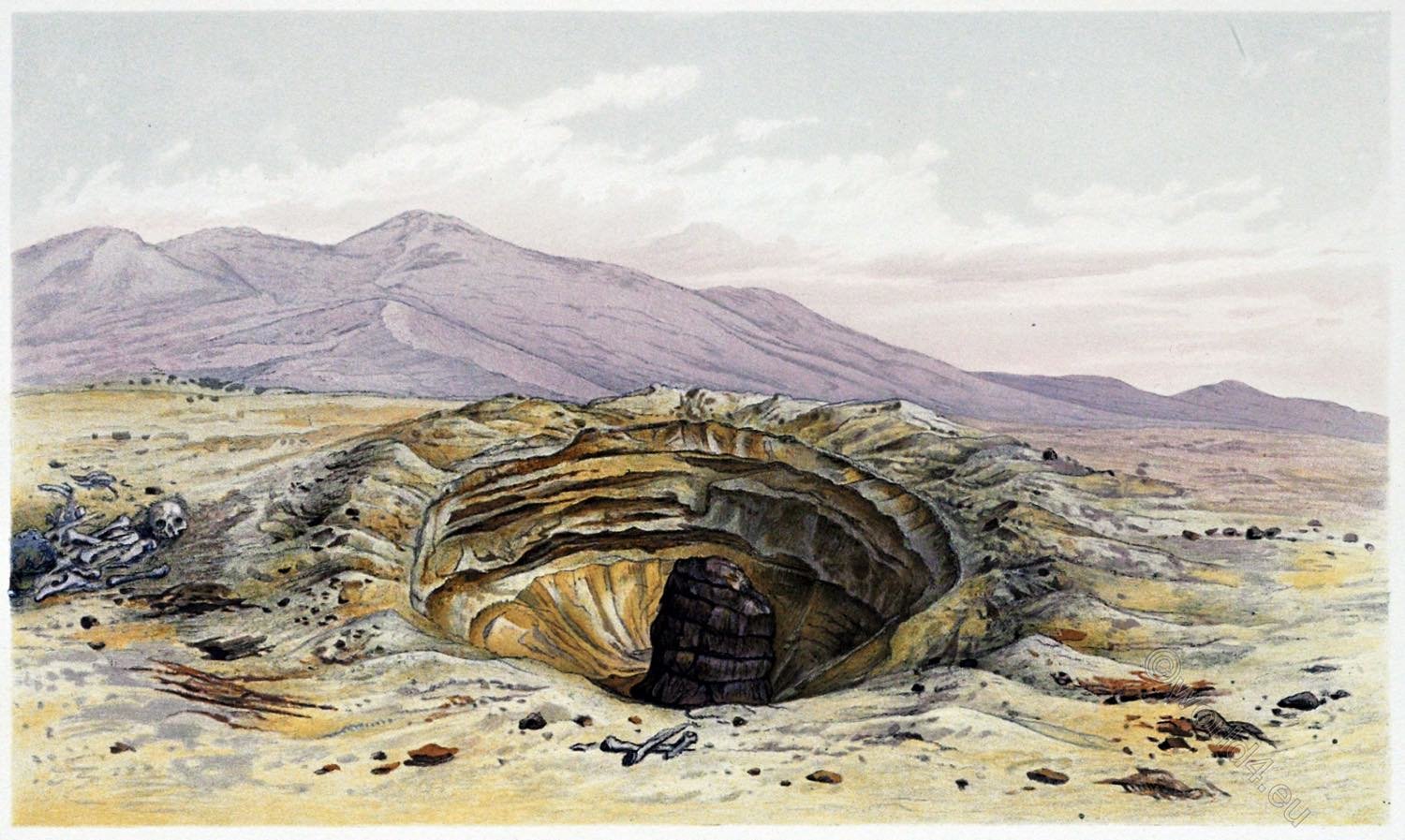 II. The Several Graves.
SOLITARY GRAVE OF A SIMPLY EQUIPPED MUMMY.
PLATE 7.
Of the poorly equipped dead several were usually buried together. Some however were occasionally laid by themselves in shallow graves (Section, Plate 10). A case of this sort is given in the present illustration, which corresponds on the whole with that of the preceding plate. In a grave scarcely 3 metres deep we see a shapeless mummy pack bound round with a netting of cordage, its cotton wrapping coloured a deep brown with decay.
The stratified sands in the lower part of the grave have been covered by sand, which falling in during the exhumation, accumulated in gentle slopes. The pit is surrounded by the masses of sand thrown up in rolling heaps, and strewn with single stones and remains of parting gifts. Above the yellow sandy plain in the background rise the steep cliffs encircling Ancon Bay,
Source: The necropolis of Ancon in Peru: a contribution to our knowledge of the culture and industries of the empire of the Incas being the results of excavations made on the spot by Wilhelm Reiss (1838-1908); Alphons Stübel (1835-1904), joint author; Wilhelm Greve, lithographer; Augustus Henry Keane (1833-1912), translator; Ludwig Wittmack (1839-1929); Rudolf Virchow (1821-1902); Alfred Nehring (1845-1904). Berlin: A. Asher & Co.; New York : Sole agent for America, Dodd, Mead & Company, 755 Broadway, 1880.
Continuing
II. The Several Graves.
Plate. 5. The deep grave of the false-headed Mummies.
Plate. 6. Exposed graves with Mummies of simple type.
Plate. 7. Solitary grave of a simple equipped Mummies.
Plate. 8. Interments under earthenware vessels.
Plate. 9. Interments under fragments of earthenware.
Plate. 10. Sections of the graves.