Reign Louis XIV. French fashion history. 1643 to 1715.
Content
Louis XIV. commands — Court luxury and pleasure; disguises — The Temple jewellery Fashion and etiquette – Successive fashions — Royal edicts — The "Tombeau du sens commun" — Dress of La Valléire of Mme. de Montespan — Costume of a lady of rank in 1668 — The "échelles de Mme. de la Reynie" — "Transparencies" — Manufactures — Champagne, the hair-dresser — Female hair-dressers — "Hurluberlus" and Mme. de Sévigné — Moustaches for women; patches — Palatines — Slippers; high heels — Corsets; fans; sweet lemons – Dog-muffs — Hair dressed "à la Fontanges" — English style of dressing hair — "Esther" — Steinkerks— "Crémonas" — "Amadis" and Jansenist sleeves — Hair dressed "à la reffrontée"— Dresses of the Duchesse de Bourgogne — Mignardises.
Louis XIV. commands
A KING who knows how to command now appears upon the scene. In his youth Louis XIV. ruled over pleasure, in his old age over conscience.
But whether in youth, middle age, or at the close of life, Louis XIV. could not dispense with a numerous company of courtiers of both sexes, whom he attracted by means of fetes and fashion, by continual amusements, and by pleasures of every kind. In 1650, Mme. Belot, the wife of a "Maitre des requetes," (Maitre des requetes were in the French State Council in addition to the actual members (ministers and state boards) first wore and set the fashion of the "justaucorps," which was like the "hongreline" (The hongreline was a mid-thigh-length overcoat of the frock style) of former years, but shaped in some respects like a man's pourpoint. As a riding or hunting costume it was also adopted by the bourgeoises. Scarfs came again into fashion in 1656. But some disbanded soldiers amused themselves by wandering through the streets of Paris and snatching those light garments from the shoulders of ladies passing by, on the pretext that Louis XIV. had forbidden the wearing of them. A few of these scoundrels were hanged, without ceremony, by the police.
During the Carnival of 1659, "the court," says Mdlle. de Montpensier, "only arrived at the beginning of February… . We often masqueraded in most delightful fashion. On one occasion, Monsieur, Mdlle. de Villeroy, Mdlle. de Gourdon, and I, wore cloth of silver with rose-colored braid, black velvet aprons, and stomachers trimmed with gold and silver lace. Our dresses were cut like those of the Bresse peasants, with collars and cuffs of yellow cloth in the same style, but of somewhat finer quality than is used by them, and edged with Venetian lace. We had black velvet hats entirely covered with flame-colored, pink, and white feathers. My bodice was laced up with pearls and fastened with diamonds, and had diamonds all about it.
Monsieur and Mdlle. de Villeroy also wore diamonds, and Mdlle. de Gourdon emeralds. Our black hair was dressed in the Bresse peasant style, and we carried flame-colored crooks ornamented with silver. For shepherds we had the Due de Roquelaure, the Comte de Guiche, Péquilain, and the Marquis de Villeroy, &c."
Françoise Louise de La Baume Le Blanc, Duchess of La Vallière and Vaujours, called Louise de La Vallière (1644 – 1710), was since 1661 mistress of the French king Louis XIV. She gave birth to several children and was displaced in 1667 by Madame de Montespan in his favor, afterwards she had to stay at the court until 1674. At the age of 30 she entered a Carmelite convent and lived there until her death 36 years later.
The Temple jewellery fashion and etiquette
In 1662, "pleasure and plenty were reigning at court; the courtiers lived high and played high. Money was abundant, every purse open, and young men got as much cash as they chose from the notaries. There was a constant succession of feasts, dances, and entertainments."
In 1664, Louis XIV. distributed presents of dress-stuffs to all his courtiers, who were positively no longer free to dress as they liked. After he had built the pavilion at Marly, every court lady found a complete costume, and a quantity of the most exquisite lace, in her wardrobe. And when by special favor the royal princes were allowed to obtain embroidery in blue silk, it was officially reckoned among the "benefits" received from the king. Materials were magnificent! Gros de Naples (Gros de Naples or Gros de Tours, a dense, silky, even half silk, taffeta-like woven fabric, the earlier manufactured only in Naples, but later imitated in the factories to Tours, and even better was delivered.) was brocaded with gold leaves and red, violet, or gold and silver flowers.
The "Mercure Galant" (Mercure Gallant, founded by the writer Jean Donneau de Visé in 1672, was a stylistic influences on French-language magazine of the late 17th and early 18th century. The readers were given with the 1672-1674 and 1678-1714 published monthly expenses a mix of politics, short again and again slightly scandalous stories, poetry, music.) of the same year contained the following letter on the fashions, addressed to a countess in the country: —"As I am aware, madame, that your country neighbours are much interested in the new fashions, I paid a visit lately to one of those ladies who can only talk of skirts and finery… ." Dresses painted with figures and flowers are still worn, but there is more green in the bouquets of flowers. They are beginning to paint the finest linen, and this is quite a novelty, for all those we have seen hitherto were only printed.
Jet and enamel buttons are mentioned, watered ribbons, and square watches with looking-glass at the back; but this last fashion does not meet with approval, as it is thought the corners of the watch might be dangerous.
"Net-work coifs were at first dotted, and afterwards open worked; this last is quite a novelty, as are also the skirts of 'point d'Angleterre,' printed on linen and mounted on silk with raised ornaments; every woman has bought some."
Jewellery had a large sale: some in colored glass, manufactured by a clever artisan in the Temple, was called "Temple jewellery." Fashion now became a question of etiquette, and Louis XIV. was lawgiver. The court obeyed every fancy of the sovereign, and the town followed suit, as far as was possible, and more than was reasonable. Debts were incurred for dress. A tailor made a claim of 300,000 francs on the great Condé!
Men and women alike endeavored to shine in dress. "At the royal residences," says Voltaire, "every lady found a complete suit of clothes in readiness for her. A princess had but to appear in some striking costume, and every lady of rank immediately endeavored to imitate, even to outshine her.
The most extravagant sums were paid for dresses that were continually renewed." "Scarcely had one fashion usurped the place of another," says La Bruyere (Jean de La Bruyère 1645-1696 was a French writer.), "when it was succeeded by a third, which in its turn was replaced by some still newer fashion, not by any means the last." Never had the refinements of Fashion been pushed so far.
The poverty of a great part of the population in the time of the Fronde has been admitted. But Claude de Dubosc-Montandré, the author of a pamphlet called "Le Tombeau du Sens Commun," is of a different opinion, and exclaims in 1650: "If the people were poor, should we see neckerchiefs worth twenty or thirty crowns on the wives of cooks? or liveried lacqueys (A liveried male servant) carrying a cushion behind their mistress, a mere shopkeeper's wife? Should we see milliners and butchers' daughters wearing dresses worth 300 or 400 francs? or gold trimmings brought down so low as to adorn laundresses withal? And is it not true that clothes ought to be infallible tokens by which to distinguish rank and conditions in life, and that in the gardens of the Luxembourg or the Tuileries we ought to have no difficulty in distinguishing a duchess from a bookseller's spouse, a marchioness from a grocer's wife, or a countess from a cook?'
Our author forgets that extravagance does not always indicate general wealth, though it frequently casts suspicion on the moral tone of society.
On the one hand, the king signed edicts against extravagance, while on the other he encouraged it by his splendid fetes. The bourgeois alone approved of edicts forbidding gold or silver-laced liveries, and fixing a limit to the price of the handsomest materials. The edict of 1700 was followed by the publication of a print, underneath which was the following distich: "A femme désolée mari joyeux … Trêve a la bourse du mari jusqu'à nouvelle mode." ("A sorry wife, a cheerful husband… Truce to the husband's purse until new fashion.")
A decree of the council, dated August 21, 1665, set forth that no woman, single or married, should be admitted "Marchande lingère," unless she professed the Catholic, Apostolic, and Roman faith. Fifteen years later, a poet wrote the following lines:— "On ne distingue plus nos dames d'avecque le conmmun des femmes: Dès qu'une personne d'honneur Prend quelque Juppe de couleur, Ou dès qu'elle change de mode, Enfin, dès qu'elle s'accommode Dedans un estat éclatant, Une bourgeoise en fait autant; Elle s'ornera de panaches, Et s'appliquera des moustaches, Des postiches, des faux cheveux, Des tours, des tresses et des nœuds, Des coëffes demi-blanche ou jaune, Ou les toiles entrent par aune; De ces beaux taffetas rayez, Qui parfois ne sont pas payez, Car souvent tant de braverie (coquetterie) Cache beaucoup de gueuserie." ("One does not distinguish any more our ladies of with that the conmmunity of the women: As soon as a person of honour takes on some coloured skirt, or as soon as she changes fashion, Finally, as soon as she accomodates herself in a brilliant state, a bourgeoise does the same; She will adorn herself with plumes, And apply moustaches, hairpieces, false hair, Tricks, braids and knots, Half-white or yellow coëffes, Where the cloths come in by the acre; Of these beautiful striped taffetas, Which sometimes are not paid for, For often so much braverie (coquetry) Conceals much gueuserie. ")
The above satirical and descriptive tirade niav, perhaps, have annoyed the belles of the day, but it did not reform them. Law and criticism were alike in vain, and the history of dress, both masculine and feminine, from the minority of Louis XIV. to the year 1715, presents a variety of phases that reflect the successive changes at his court.
When Marie Therese arrived in Paris in August, 1660, she was attired in "a gown enriched with gold, pearls, and precious stones, and was adorned with the most splendid of the crown jewels."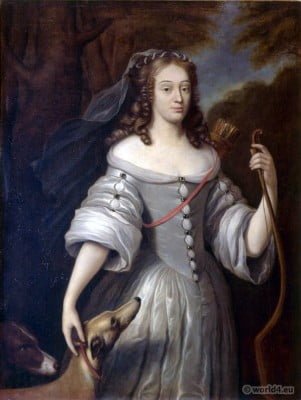 A year afterwards, at a fête at Vaux, Mdlle. de la Valliere (Louise Françoise de La Baume Le Blanc 1644-1710, Duchess of La Vallière and Vaujours, Louise de La Vallière was called a mistress of Louis XIV) wore a white gown, "with gold stars and leaves in Persian stitch, and a pale blue sash tied in a large knot below the bosom. In her fair waving hair, falling in profusion about her neck and shoulders, she wore flowers and pearls mingled together. Two large emeralds shone in her ears." Her arms were bare, and encircled above the elbow by a gold open-work bracelet set with opals. She wore gloves of cream-colored Brussels lace.
"No longer are our ladies to be distinguished From the women of the people; Since a person of honor wears a colored petticoat, Or changes the fashion of her clothes, In short, since she dresses herself In a gaudy manner. A bourgeoise does as much as that; She too will put on plumes, And stick on mustaches, False hair and pads, 'Tours,' plaits, and knots; White and yellow coifs, With ells of lawn in them; And those fine striped silks Which are sometimes not paid for; For often such bravery of dress Hides much roguery."
"Langlée, director ol the royal sports," says Mme. de Sévigné (Marie de Rabutin-Chantal, marquise de Sévigné 1626-1696, was a member of the French aristocracy. As an author she was known by her letters and is expected to circle of the classics of French literature.), "gave to Mme. de Montespan (Françoise-Athénaïs de Rochechouart de Morte Mart, Marquise de Montespan 1640-1707 was a mistress of Louis XIV) a gown of gold upon gold, embroidered in gold, bordered with gold, above which was a band (frise) of gold, worked in gold mixed with a particular kind of gold; and forming the most divine material that can be conceived… ." All women, including the queen-mother, had made use of masks until the year 1663.
This fashion passed away as political adventures gradually ceased. But in 1695 it still prevailed. "With regard to ladies," says the "Traité de la Civilité," published in Paris, "It is well to know that in addition to the curtsey, they have other means, such as the mask, the coif, and the gown, with which they can express respect; for it is reckoned uncivil for a lady to enter the room of a person deserving of consideration with dress tucked up, face masked, and coif on head, unless the coif be transparent. It is an incivility also to keep on her mask in any place where a person of eminent rank is present, by whom she might be perceived, except when in a coach with such person. It is uncivil lo keep on the mask when curtsying to any one, unless from afar off; and even then it must be removed for a royal personage."
The above rules show how greatly the mask had been in use. In 1668, women of rank always wore an under-skirt of watered or glace satin, with an over-skirt trailing behind, and carried over the left arm. Sleeves were puffed, and trimmed with lace and ribbon, and scarcely covered half the arm. They were not slashed. The bodice reaching to the hips, and fitting tightly to the waist, ended in a point. The under-skirt had a double border of gold and silk embroidery, while the upper one had but a single border, like the Greek and Roman tunics.
Here and there on the bodice were trimmings of gimp and ribbon, and a lace collerette covered the shoulders and chest. Women generally wore pearl necklaces. Cuffs held an important place in a carefully arranged toilet. "I have been told," writes Antoine Furetière, "that the wife of President Tambonneau takes a whole hour to put on her cuffs." (Antoine Furetière 1619-1688 was a French writer and scholar, but above all a major lexicographer.)
The échelles de Mme. de la Reynie
Knots of ribbon were placed everywhere among lace edgings. When arranged in tiers each side of the busk in front, they were called "échelles," or ladders. On one occasion Mme. de la Reynie's "ladders" were being spoken of with admiration before Mme. Cornuel, who replied somewhat maliciously: "I wonder she does not wear a gibbet as well." M. de la Reynie was Chief of the Police (Her Husband Nicolas de la Reynie the Paris police prefect, Investigator in the poisoning affair in the years 1675-1682. "Affaire des poisons, Cour des Poisons", Chambre ardente).
Ornaments of ribbon and chenille succeeded to "ladders." Buttons were fixed on braid or chenille, and corresponded with "freluches" or "fanfreluches," that is, with tufts of silk. "Transparents" came into fashion in 1676. "Have you heard of 'transparents'?" writes Mme. de Sevigne. "They are complete dresses of the very finest gold or azure brocade, and over them is worn a transparent black gown, or a gown of beautiful English lace, or of chenille velvet, like that winter lace that you saw. These form à ' transparent,' which is a black dress and a gold, silver, or colored dress, just as one likes, and this is the fashion." The black lace worn on skirts was called "quilles d'Angleterre." Colbert encouraged the manufacture of lace.
By an edict of August 5, 1665, "a manufactory of French lace" was established on a liberal basis at the Hôtel de Beaufort, in Paris. The towns designated as the cradles of this valuable art were Arras, Quesnoy, Sedan, Chateau-Thierry, Loudun, Aurillac, and above all, Alençon. The commoner kinds of lace hitherto manufactured in Paris, Lyons, Normandy, and Auvergne, no longer sufficed for the popular taste.
The finer sorts were also made subsequently at Valenciennes, Lille, Dieppe, Havre, Honfleur, Pont-l'Evêque, Caen, Gisors, Fécamp, Le Puy, and the Bois de Boulogne. French lace vied with that of foreign manufacture, including Brussels and Mechlin.
Colbert (Jean-Baptiste Colbert, Marquis de Seignelay 1619-1683 was a French statesman and the founder of mercantilism. Under the "Sun King" Louis XIV, he was successful finance minister. He reorganized the state budget to fund the very high costs, especially for the king himself, the court, the military and its campaigns.
Colbert created the basis of the French Economic and colonial policy.) eagerly secured the services of a lady at Alençon, named Gilbert, who knew the Venetian lace-stitch, and directed her to set up a factory at Alençon. Lace called "gueuse" and "neigeuse" was bought by persons of small means,— other kinds, of marvellos beauty, could only be compassed by women of fortune.
The fine ladies of the seventeenth century, like those of the sixteenth, had their gowns made by men, viz. a certain Renaud, living opposite the Hôtel d'Aligre; a Sieur Villeneuve, near the Place des Victoires; Lallemand, Rue St. Martin; Le Brun, Le Maire and Bonjuste, all of the Rue de Crenelle; and lastly, Chalandat, Rue de I'Arbre-Sec.
As real pearls were very costly, a Frenchman, named Jacquin, invented a substitute for them in the century of which we are treating. He had observed that the water in which small fish called "ablettes" (whitebait) were washed, contained a quantity of bright and silvery particles, and by filling hollow blown glass beads with this sediment, he succeeded in producing an admirable imitation. But about twenty thousand whitebait were required to supply one pound of essence of pearls!
Silks of every kind were manufactured at Lyons, and a workman employed there succeeded in producing them with a bright lustros finish; the process is called "donner eau." The silkworm whose silk is a perfect white was now about to be introduced into France. The first period of feminine dress under Louis XIV. was chiefly remarkable for its monumental head-dresses.
The Sieur Champagne, by reason of his skill, and also of the value he contrived to confer on himself, was in great demand by all the fine ladies of the time. "Their foolish behavior made him quite insupportable, and he made the most impertinent remarks to them; some ladies he would leave with their hair half dressed."Maitre Adam petulantly exclaims: "J'enrage quand je vois Champagne Porter la main à vos cheveux." It was on this account, perhaps, that many of the most refined "It makes me furious to see Champagne Lay his hands upon your hair."
Women of fashion preferred female hair-dressers, some of whom were widely celebrated, viz. "Mesdemoiselles Canillat, Place du Palais Royal; D'Angerville, in the same neighborhood; De Gomberville, Rue des Bons-Enfants; Le Brun, at the Palais; and Poitier, near the Hospice des Quinze-Vingts." They were all wives of wig-makers.
The hair was dressed "à la Ninon," carefully parted in front and flowing in loose ringlets, and partly concealed at the back by a white gauze veil.
An "appretador," consisting of a row of diamonds or string of pearls, was sometimes mixed with the hair; or twists of hair of various colors, and "postiches" or false hair.
The Rise and Fall of Versailles
"Hurluberlus" and Mme. de Sévigné
At the time of the marriage of the Duke of Orleans with the Princesse Palatine (Elisabeth Charlotte, Princess Palatine of the Rhine 1652-1722, was Duchess of Orléans and sister of law of King Louis XIV of France. Literary and historical significance she attained including through their correspondence, which is partly due to its very blunt descriptions of French court life of particular cultural and historical value.), the fashionable style of hair was called "hurlupee" or "hurluberlu." Mme. de Sévigné thought it most extraordinary. "I was greatly amused at the head-dresses," she says, "and felt inclined to give a slap to some of them." The word "hurluberlu" meant inconsiderate, brusque, thoughtless. Certain ladies were blamed for being "hurluberlu." (Hurly-burly) Mme. de Sévigné afterwards changed her mind.
A female hair-dresser named Martin, who succeeded to the favor accorded to Champagne, introduced a fashion that was very becoming to some faces. The hair on each side was cut in graduated lengths, and hung in thick curls, the longest not falling much lower than the ear. Ribbons were fixed into it in the usual way, and a large curl drooped on the neck.
The "hurluberlus" developed into many varieties, among others into "paresseuses," the false wigs or long ringlets that fine ladies put on in their dressing-rooms on rising.
When Mme. de Montespan was at the height of favor, "she wore point de France, and her hair in numberless curls, one on each side of the temples, falling low on her cheeks. Black ribbons in her hair, pearls which had belonged to the Maréchale de I'Hôpital, and buckles and ear-drops of magnificent diamonds. Three or four hair-bodkins; no coif… ."
Moustaches for women; patches
On the whole the seventeenth century was prolific in pretty head-dresses. When the head was dressed "à la garçon," a parting was made horizontally along the forehead, a few little curls waving loose, while all the rest of the hair was drawn up, and cut short on the neck. Mme. de Sévigné advised Mme. de Grignan to adopt the above style, somewhat modified: "the hair knotted low at the back of the head, so as not to conceal either its purity of outline or its harmonious proportions; the short undergrowth of hair in light curls on the forehead gives piquancy to the physiognomy, while showers of filmy ringlets on the temples add softness to the expression."
For two years "le faire brelander" was in fashion, that is, the hair was cut short and curled. On the other hand, Robert Nanteuil 1623-1678, the famous engraver, has bequeathed to us portraits of women with most luxuriant hair; long ringlets mixed with pearls rise from the crown of the head, and fall down on either side.
The "capeline" of the 17th century was a hat worn by ladies when hunting, or at a ball or masquerade. It was generally made of straw, with a deep brim lined with silk or satin, and was covered with feathers. Sometimes it was merely a velvet cap, trimmed with feathers of no great value.
Long ringlets were called "mustaches." "Women wore curled mustaches hanging down over the cheeks, and reaching to the bosom. Servants and bourgeoises met with great disfavor when they wore mustaches like young ladies." From the time of the Fronde, many Frenchwomen had continued very partial to patches. A poet, writing under the name of "La Bonne Faiseuse," says: "However a gallant may slight you, If not to-day, he will be caught to-morrow; Whether he be indifferent or conceited, In the end the fly (mouche) stings him."
In the "Adresses de Paris" (1691), De Pradel informs us that "The best patch-maker lives in the Rue St. Denis, at the sign of 'La Perle des Mouches.' La Fontaine tells us in verse the use of patches. He puts the following lines into the mouth of an ant: – "I increase the natural whiteness of complexion, And the last touch put to her beauty, By a woman on her way to conquest, Is an adjustment borrowed from they flies (Mouches)."
Palatines, Slippers; high heels
As a little fanciful adjunct, ladies wore "palatines" ot white gauze, or of English point or French lace in summer, and miniver in winter. They were so called after Charlotte Elizabeth of Bavaria, daughter of the Elector Palatine, and second wife of Monsieur, who was the first to make use of them, in order, it is said, to avoid the immodesty of exposing her shoulders and bosom.
She was called by the courtiers "toute d'une piece," on account of her frankness and worth, but the "palatine" was her only success at Versailles.
Until the reign of Louis XIV., leather gloves had been worn by men only, and resembled the war-gauntlets of the ancient monarchy; but during his reign women displayed the beauty of their hands by wearing either kid gloves reaching to the upper arm, or long mittens in netted silk; while charming pink or blue satin slippers, with rosettes on the instep, clad their feet. "This reminds me,' says Tallemant (Gédéon Tallemant des Réaux 1619-1692 was a French writer.), "of some of the queen's ladies, who, that they might wear pretty shoes, tightly bound their feet with bands of their hair, and fainted from pain in the queen's room." High heels soon made their appearance, and continued increasing in height until heels of eight centimetres were considered quite an ordinary size.
François Colletet exclaims in "Les Tracas de Paris:" — "Mais considère leur patin Qui d'un demi-pied les élève." And Regnard:— " Lise veut être grande en dépit de nature." While Voltaire adds, more recently:— "Vous aurez maussades actrices, Moitié femme et moité patin."
Shoemakers for ladies
Among the best shoemakers for ladies were Raveneau, Rue des Cordeliers; Vernon, Couteaux, Gaborry, Rue des Fossés-St.Germain; Bisbot, Rue Dauphine; Sulphour, Rue St. Sévérln. The shoemaker Des Noyers, Rue St. Anne, only made "very neat shoes," and charged a gold louis for them, from which we may conclude that those of a more elegant sort were excessively dear. The tight stays, so injurious to health, were adopted by the ladies of the seventeenth century, and to conceal the discomfort occasioned by them, fans were in constant use; these were beautifully painted and mounted in wood, mother-of-pearl. Ivory, steel, or gold.
In 1656 Christina of Sweden, while journeying through France, astonished everybody by her eccentricities and the strangeness of her dress. Some French ladies asked her opinion as to whether they should use fans in summer as well as in winter. The Queen of Sweden replied, somewhat coarsely,— "I think not; you are windy enough as you are." But they used their fans in summer, Christina's advice notwithstanding. They also carried a sweet lemon in the left hand, and occasionally set their teeth in It, so as to redden their lips. "But just think of their pattens, Which raise them half a foot. Tall Lise ivill be, despite of nature. You will have clumsy actresses, Half woman and half patten."

From 1660 to 1680 there was little material alteration in feminine attire. There were, however, a few changes in minor details. The long pointed bodices, the short sleeves, and the full skirts tucked up over narrower petticoats, remained in fashion. Scarfs reappeared frequently. Masks had not been given up; and muffs, that were very generally worn, often served to carry about little dogs. "Dog-muffs" were sold in the shops.
Hair dressed "à la Fontanges"
An unexpected variation took place in head-dresses. The Duchesse de Fontanges (Marie Angélique de Scoraille de Roussille, duchesse de Fontanges 1661-1681, was a mistress of the French King Louis XIV) was present at one of the royal hunting parties, when a gust of wind blew her head-dress aside; she tied it in its place with her ribbon-garters, the ends falling over her forehead. Louis XIV. was delighted with this curious, improvised, and, so to speak, historical invention, which was due to a mere chance. It was consequently adopted by the ladies of the court, in the first instance, and afterwards by the Parisian bourgeoises, under the name of "coiffure à la Fontanges."
Imagine a framework of cap-wire, at least half a yard in height, divided into several tiers, and covered with bands of muslin, ribbons, chenille, pearls, flowers, aigrettes, &c. Each separate part of the wondrous structure had its own appellation, viz. the solitary one, the duke, the duchess, the Capuchin, the cabbage, the asparagus, the cat, the organ-pipe, the first or second sky, and the mouse. The last named was a little bow of nonpareil, fixed in the mass of frizzed hair that was arranged below the curled "fontange."
"A stockade of wire Supports the supurb structure Of the lofty head-dress; Even as in time of calm upon the sea, A vessel bears its masts."
English style of dressing hair, Esther, Steinkerks, Crémonas, Amadis.
"If a woman only moves, the edifice trembles and seems about to fall."But neither the difficulty of their construction, nor the care required for their preservation, prevented women from wearing these things. Yet the king disapproved, and for a few months after the death of Mme. de Fontanges the ladies of the court submitted to his taste, after that interval they followed their own. For thirty years those gigantic "heads" held their place at Versailles, under the eyes of the old monarch who "protested in vain against towering head-dresses."
There were "tignons," or "torsades," in many plaits, to annoy his majesty; there was the "passagere," a bunch of curls on the temples; the "favorite," a cluster falling on the cheek; "cruches," little curls on the fore part of the head; "confidants," still smaller ones near the ears; and "crève-cœurs," two curls on the nape of the neck. Each day brought forth some new complication. When was a limit to be reached? Two English ladies, with their hair worn low, having been presented at the Versailles court in 1714, Louis XIV. said to the wives of his courtiers,— "If Frenchwomen were reasonable beings, they would at once give up their ridiculous head-dresses, and wear their hair in the English fashion."
Notwithstanding their spirit of insurbordination, how could the court ladies bear to be called "ridiculous," especially by their king? They went from one extreme to the other; and the desire to imitate the English ladies induced them to do that which the king's authority had failed to obtain from them. They very soon made their appearance in the king's "circle" with their hair dressed low. The poet Chaulieu (French poet Guillaume Amfrye, abbé de Chaulieu 1639-1720) mentions the fact: "Paris yields to fashion, and changes its adornments; This people, given to imitation, and copyist of the court, Has begun a day since To pull down the pride of its head-dresses."
Besides the stars of Versailles, Mdlle. de la Vallière, Mme. de Fontatiges, and Mme. de Maintenon, there shone also, and not always with the approbation of the sovereign, the stars of the Paris stage. The influence of actresses was increasing. "All the mantles now made for women," says "Le Mercure Galant" in 1673, "are no longer plaited, but quite plain, so that the figure is better shown off. They are called mantles "à la Sylvie," although invented by Mdlle. de Molière, but they are named after a book called 'La Sylvie de Molière.' Those, however, who have read the book, know well enough that it was not his story." Mdlle. de Molière composed most splendid costumes for herself.
After the representation of Esther in 1689, the fashions suddenly changed. The Ninon and Montespan styles had lasted until the year of the famous jubilee of 1676. "In the early and doubtful dawn of Mme. de Maintenon's career," says J. Michelet, "and especially in those equivocal years preceding her marriage, she had adopted a head-dress which was at once coquettish and devout, which in part concealed, and in part displayed, the scarf she had best owed on the ladies of St. Cyr, and which had been imitated by all.
After Esther, the scarf was put aside, and the face boldly exposed. The head-dress was raised higher and higher in various ways, and resembled a mitre or a Persian tiara. Gigantic combs were worn, or towers or spires of lace, and, later, a scaffolding of hair; or the diadem-cap adopted by Mme. de Maintenon, the helmet cap, or dragoon's crest, with which the more audacious beauties (like Mme. la Duchesse) adorned their bolder charms. Her portraits, and those of De Caylus, are the prettiest of the time, and seem to be the types of Fashion."
The battle of Steinkirk, in which the Prince of Orange was defeated, was commemorated in women's dress. They wore "Steinkirk" ties, or kerchiefs, twisted round the throat with studied and graceful negligence. This was in honor of the French officers, who, taken by surprise, had only time to throw their cravats about their necks, rush out on the English, and defeat them.
Mdlle. Marthe le Rochois (French operatic soprano (1650–1728), a singer of the day, had set the fashion by loosely tying on a cravat over her stage dress in the opera of Thétis et Pelée. This was a delicate compliment, and it was appreciated and copied. All novelties in jewellery were "à la Steinkirk." The fashion of the cravats did not last long, but was revived later in the shape of "fichus," or three-cornered silk neckerchiefs, trimmed with lace, gold fringe, or gold and silver thread. Another fashion was derived from war. "Crémonas," or light trimmings either puffed or plaited, and sewn to both edges of a ribbon, made their appearance in 1702. They were intended to commemorate Prince Eugène's entry into Cremona, where the Maréchal de Villeroi was made prisoner.
In 1684, women still wore under-skirts trimmed with "falbalas" or bands of plaitings, or puffs either placed high up or low down on the skirt—and upper gowns with long trains, like those of 1668; but the bodice of the same color as the train, was made with a small basque cut away in front. It was half open, and disclosed a braided stomacher, above which was a chemisette of fine muslin or lace, or a "follette," a very light kind of fichu. Sleeves were no longer puffed, but were worn close fitting, with a lace frill. Rosettes in satin ribbon were out of fashion. "Amadis" sleeves were seen for the first time in the stage dresses of Amadis des Gaules, an opera, of which the music was by Lulli, and the words were by Quinault.
They had been designed by the Chevalier Bernin for Mdlle. le Rochois, in order to conceal the ugliness of her arms. Half dress, or "neglige," consisted of a black gown, black adjuncts, and a white apron. Widows dressed in white. Another kind of sleeve, covering the arm, was called the "Jansenist," in allusion to the severe morals of the Port Royalists, who were always warring against insufficient or light clothing. The hair was dressed in artistically arranged curls, beneath a coif of moderate height, not unlike a hollow toque, generally speaking goffered, and made either of starched muslin or magnificent lace. There were many sorts of caps, with hanging lappets, or one lappet or "jardiniere." Wasps or butterflies made of brilliants, says Boursault,— "Paraissaient voltiger dans les cheveux des dames." ("Seemed to flutter in the ladies' hair.").
There was also a fashionable head-dress, placed at the back of the head, and showing the ear; this was called the "effrontée," or "barefaced."
The costume was completed by a necklace, the inevitable fan, and the high-heeled shoes that are characteristic of a whole epoch in dress.
On the occasion of the betrothal of the daughter of Monsieur with the Due de Lorraine, the Duchesse de Bourgogne wore on the first day a gown of silver tissue, with gold flowers, touched with a little flame-color and green, and in her hair the finest of the crown diamonds. The next day her gown was of grey damask, with silver flowers, and she wore diamonds and emeralds. Mademoiselle wore a coat of gros de Tours richly embroidered in gold; her skirt, of silver tissue, was embroidered in gold touched with flame-color. She wore a splendid set of diamonds, and a mantle of gold point d'Espagne, six yards and a half long, and her train was carried by the Grand Duchess. Another time her coat and skirt were both of cloth of silver, all laced with silver. Her jewels were diamonds and rubies.
"Towards 1700," says Michelet, "the women of the time no longer show the classic features of a Ninon, or a Montespan, nor the rich development that they so freely displayed. But the devil was no loser. If backs and shoulders are concealed from our gaze, the small portion that we are permitted to admire, and that is, as it were, offered to our inspection, is but the more attractive. There is a sort of audacity about the uncovered brow, the hair drawn back so as to show its every root, the high comb, or diadem-cap, that seems little in harmony with the soft and childish features of the day. This childishness, so devoid of innocence, combined with the masculine Steinkirk, gives them the appearance of pets of the seraglio, or of impudent pages who have stolen women's garments."
Mignardises
For a long time the artist Pierre Mignard 1612-1695, enjoyed the pleasant monopoly of painting portraits of the court ladies, and these Madonnas of his were so completely the rage, that the Versailles ladies wished to be distinguished by their "mignarde" faces; they endeavored to obtain "mignardise" of expression, they smiled "mignardement," and put on little "mignard" affectations. The word became part of our language, and was used with great frequency in the complimentary talk addressed to women.
Mignard was succeeded by a painter called Nicolas de Largillière 1656-1746; and "mignardise" began to give way to a colder and simpler style, though still somewhat tinged with affectation. Mme. de Maintenon on one occasion wore a gown of dead-leaf damask, quite plain, a head-dress "en battant roeil," and a cross composed of four diamonds on her neck—a cross à la Maintenon. The quasi-queen having thus set the fashion of veils and grim coifs, all her faithful followers looked like heaps of black and sombre materials.
Reign of Louis XIV, (continued) 1705 to 1715.
Table of Content:
Painted faces — Reply of a Turkish ambassador — Ineffectual criticism — Mme. Turcaret's "pretintailles" — Mme. Bonnet's law-suit — Brocaded materials — "Andriennes" — "Criardes" – Return of "hoops" and paniers — A sailor's leap — Actresses' paniers, and the Greek head-dress — Mme. de Letorieres — D'Hele arrives frozen at the Cafe Procope — Waterproofs — Finishing touches — Fans and fan-makers in the seventeenth century — What Mme. de Staël-Holstein thought of fans — Transition.
"The women of this district (Versailles)," writes La Bruyère (Jean de La Bruyère 1645 -1696 French writer), "hasten the decline of their beauty by the use of artifices which they imagine will increase their charms; they paint their lips, cheeks, eyebrows, and shoulders, and liberally display them as well as their bosom, arms, and ears. … If by the fault of nature women became such as they make themselves by art, that is to say, if their complexion suddenly lost all its freshness, and looked as fiery and leaden as they make it by the use of rouge and paint, they would be inconsolable". And he adds: "If their wish is to be pleasing to men, if it is for the men's sake that they lay on their white and red paint, I have inquired into the matter, and I can tell them that in the opinion of men, or at least of the great majority, the use of white paint and rouge makes them hideous and disgusting; and that rouge, by itself, both ages and disguises them."
This reminds us of the reply of a Turkish ambassador who, on being questioned as to the beauty of Frenchwomen, said, "I am no judge of painting."
La Bruyère (Jean de La Bruyère 1645-1696) criticized sharply; while François Fénelon, with characteristic gentleness, pointed out that the elegant simplicity of the antique races was far more favourable to beauty than the fashions of the day, which were tending more and more to affectation and over-ornament.
While moralists were thus testifying against their interpretation of the art of pleasing, women continued perseveringly to "improve upon Nature," and load themselves with pretentious finery. They sneered, like the men, at the Abbé de Vassetz's "Traité contre le Luxe des Coiffures," and at the satirical prints on extravagant dress.
Exaggeration robbed the tight-fitting bodices of all grace; and "pretintailles," enormous cut-out patterns laid on to skirts of a different colour, made the dress unbearably heavy. There was an extraordinary variety of nomenclature in the fashions of the reign of Louis XIV. The author of Attendez-moi sous l'Orme, a comedietta in one act, performed in May 1694, puts the following remark into the mouth of one of his characters, Agatha, a farmer's daughter:-
"How clever the Paris ladies must be to invent such pretty names!"
To which Pasquin, the valet, replies,— "Malapeste! Their imagination is lively enough! Every fashion they invent is to conceal some defect. Falbala high up for those who have no hips; lower down for those who have too much. Long necks and flat chests brought in the Steinkirk; and so it is with everything."
The critics were in the right, but let us admit that women were not in the wrong. On what grounds did the former attempt to limit feminine caprice? Criticism is easy; the art of pleasing is much more difficult.
Large cut-out patterns laid on a dress were called "pertintailles" or "pretintailles." Alain-René Lesage mentions them as a new thing in Turcaret:— "I am always eager after new fashions," says Mme. Turcaret. "I have them all sent to me (in the country) immediately after they come out, and I flatter myself that 1 was the first to wear pretintailles in the town of Valognes."
Now we must remember that the comedy of "Turcaret" was first performed in February, 1709. Falbalas and pretintailles were much alike. The falbala itself was known in ancient times, but the name was invented by M. de Langlée. A caricature was published on the Poule d'Inde en Falbala. Beneath the engraving were the following lines :
" Femme, en pretintaille et fontange, Croit être belle comme un ange; Mais ce vain falbala, par son ample contour, La rend grosse comme une tour, Et tout cet attirail si fort I'enfle et la guinde, Qu'elle ressemble un poulet d'Inde."
"A woman in 'pretintaille' and 'fontange' Thinks herself as beautiful as an angel; But this vain falbala, by its vast size, Makes her as big as a tower; And all this set-out inflates and stuffs her up. Until she resembles a fat turkey." "When a thing is new, That suffices to make it handsome, And little is thought about other things, La, la, la, &c.
The "pretintaille" continued to encroach. A "devanteau," or apron, was sometimes "pretintaillé" to such an extent, that the biggest piece was no larger than the palm of the hand. Falbalas were "pretintaillés," for instance, by putting on first a red, then a green, then a yellow one, and then alternating the above colours. Flounces were "pretintaillés" in four or five colours: first, a green one, then yellow, red, blue, and white successively.
When the fashion of "pretintailles" first came in, Mme. Bonnet's dressmaker brought an action against her for the sum of 800 livres, the cost of making a "pretintaille" skirt, and gained her cause. Mme. Bonnet was condemned in costs. The bargain had been made at one denier for every yard of sewing.
After the rage for "pretintailles" had passed away, materials with large brocaded patterns in gold or colours came into fashion, and gowns resembled window-curtains. Knots of ribbon were fixed on the tucked-up skirts; but these again were succeeded by "andriennes," or long, loose, open dresses, like those worn by the actress Marie Carton Dancourt in Terence's " Andrienne." (Marie Anne Armande Carton called Manon Dancourt, was a French actress born in 1684 and died in 1745.)
For a long time past women who wished to show off a slender waist had been wearing "criardes," or dress-improvers of stiffened linen. In 1711 the vertugadins came again into fashion under the name of "hoops" and "paniers."
Certain authors contend that hoops first made their appearance in Germany, whence they found their way to England, and then returned to the Continent by way of France. Paniers were but revived vertugadins, of exaggerated size.
The noise made by the stiffened linen, when pressed against ever so lightly, obtained for them the expressive name of "criardes." "Paniers" were so called because they resembled cages, or poultry-baskets. Their framework was open, and the hoops of straw, cord, cane, or whalebone were fastened together by tapes.
Small women, with these paniers on them, were as broad as they were long, and looked at a distance like moving balls. At the concert in the grand reception-room, Mdlle. du Maine, who was wearing enormous paniers, placed herself too near the queen, and incommoded her so much that her majesty could not bear it in silence. In order to prevent the recurrence of such inconvenience, it was ordered that thenceforth the princesses should not draw their seats so near the queen, nor on the same line with her armchair.
Coopers and basket-makers undertook the manufacture of dress improvers. In vain were these articles railed against; they prevailed over satire of every kind. Paniers were the ruin of homes, the dread of husbands, and the misery of passers-by. Paniers for morning wear were called "considérations."
If we may believe Émile Gigault de La Bédollière, a writer on fashions in France, one Panier, a "Maîtres des requêtes," was drowned on the passage from Martinique to Havre. His name became a catch-word; and ladies amused themselves by asking each other as they displayed their dress,- "How do you like my 'maîtres des requêtes'?"
The jest produced laughter, but the wit is open to criticism. Paniers, however, remained in fashion, and even increased in size. In vain did men protest against them. There is a story told of a sailor, who, meeting two ladies in the city of Paris whose paniers took up the whole width of the street, found it was impossible to get past them. Pride forbade him to turn back, and in a moment he had taken a flying leap over paniers and ladies, to the admiration and applause of the spectators of both sexes.
An actress, who was making her first appearance in the character of a princess betrothed to a king of Sparta, appeared on the stage in a panier five yards and a half in circumference, under a skirt of silver gauze. This was trimmed with puffs of gold gauze and pink crape, edged with blue jet, and with bouquets of roses scattered here and there. The under-skirt was of pink silk. Trailing garlands of roses were fastened on by sashes of fringed out cloth of silver. The train dragged six yards on the floor. Handsome silver embroidery, mingled with white roses, bordered the gown; the sleeves were half-long, draped like the skirt, and caught up with diamond buttons, over pink silk like that of the slip. Her bracelets were of rubies and diamonds, and above the panier was a belt of "strass," or imitation diamonds and rubies.
Her hair was dressed in what the celebrated hair-dresser Herain was pleased to call the Greek style. A quantity of hair, frizzed into the shape of a pyramid upside down, was framed in roses, gems, and silver gauze. A regal crown surmounted the whole, and a long veil hung down to the edge of the gown. The veil was "à vapeur d'argent," that is, of very light gauze covered with gold spangles; on the left side was an enormous cluster of pink and white feathers, topped by a gigantic heron. This extraordinary attire was completed by gloves from Martials; white silk stockings with pink and silver clocks, and shoes to match, with heels at least three inches in height.
Louis XIV. presented Mdlle. de Brie and Mme. de Molière with the mantles worn by them in the comedy of the "Sicilien." This was an additional reason for actresses to be included among the queens of fashion. Did they not receive presents from the king? It is hard to believe, but members of the sterner sex also yielded to the fascination of hoops. They, too, had their paniers, consisting of whalebones fitted into the wide basques of their coats.
M. de Létorières had "a straw-coloured watered silk coat, faced with a dark green material shot with gold ; a green and gold shoulder knot (aiguillette), and a set of large and small crystal opal buttons set in brilliants, as also was the handle of his sword; his hair was arranged in two waving locks powdered with tan-coloured powder, and fell lightly and gracefully on his neck."
In those days, Fashion ruled very despotically, and took no heed of the severity of the winter. One very cold day, D'Hèle made his appearance at the Café Procope dressed in nankeen. "How do you manage to dress like that?" exclaimed his friends. "How do I manage? Why, don't you see gentlemen, I freeze !"
Whether for paying visits, or for walks, camlet rain-cloaks or waterproofs were worn in wet weather, and in cold weather "balandrans" were worn, that is, cloaks with armholes.
In the seventeenth century, precious stones took the principal place as ornaments; and gold, however beautifully chased in garlands, flowers, or designs of all sorts, was only used to set and show them off. The provost of trade at Lyons issued an edict forbidding the goldsmiths to sell stuffs woven with silver at more than seventy francs a yard.
But we know the uselessness of sumptuary laws. Numerous and costly articles for the toilet, real specimens of industrial art, were produced in accordance with the prevailing fashions. There is a tobacco-grater in the Louvre collection which evidently belonged to some lady or gentleman of the time of Louis XIV. It is rather well carved in ivory.
Large fans with handles were in fashion towards the year 1700. It was considered a mark of high breeding for men to chastise their wives and daughters with them. This was putting tans to a singular use, which probably did not last long.
The trade in fans increased to such an extent in France, and particularly in Paris, that the workers formed themselves into a guild, like the guilds of other trades. They petitioned for statutes and privileges, which were willingly granted to them by Louis XIV. In the eighteenth century there were more than five hundred manufactories of fans in Paris.
From this we may judge how widespread was their use. "Let us picture to ourselves," wrote Madame de Staël to a friend, at a later period, "let us picture to ourselves a most charming woman, splendidly dressed, graceful and gracious in the highest degree: yet if with all those advantages she manages her fan in a 'bourgeoise' way, she may at any moment become a laughingstock. There are so many ways of playing with that precious appendage, that by a mere movement of the fan one can tell a princess from a countess, a marchioness from a plebeian. And then it imparts such gracefulness to those who know how to manage it! Twirling, closing, spreading, rising or falling, according to circumstance!"
Madame de Staël carefully abstains from describing fans as adopted for the "chastisement of wives and daughters." A monstrous innovation, probably, in her opinion.
There is a scarcely perceptible transition between the reign of Louis XIV. and that of Louis XV. Mme. de Maintenon's influence, which had caused a momentary eclipse in the brilliant costumes of Versailles, soon passed away, and the passion for the most eccentric novelties became stronger than ever, at court, in the palaces of princes, and in the salons of the bourgeoisie.
Source: The HISTORY OF FASHION IN FRANCE; OR, THE DRESS OF WOMEN FROM THE GALLO-ROMAN PERIOD TO THE PRESENT TIME, FROM THE FRENCH OF M. AUGUSTIN CHALLAMEL. by Mrs. CASHEL HOEY and Mr. JOHN LILLIE.
Related