The ancient greek-roman culture.
GREECE AND ROME
No. 1. A quadriga with a couple declared by some to be Paris and Helena, by others as Pelops and Hippodamia. While some would like to see Helen kidnapped by Paris wearing the Phrygian cap, others rely on the tradition according to which Oinomaos, the father of Hippodamia, gave his daughter's suitors in the chariot race to confuse them with her beauty.
Pelops was also a Phrygian. The shape of the carriage is the one which was common at the Olympic competitions. While the wheel of the Homeric chariot is described as eight-spoke, on the monuments, especially on the vase pictures, wheels with four spokes can be seen almost throughout. According to a clay relief in the British Museum.
No. 2. Sitting muse after a relief from the former Piranesi collection.
Nos. 3, 4, 5, 6, 7: Five gods (Juno, Jupiter, Venus, Mars, Diana) from the marble fountain in the Capitoline Museum in Rome, on which twelve gods (besides the aforementioned, Vulcan, Neptune, Mercury, Vesta, Minerva, Apollo, Hercules) are solemnly represented. A work in the so-called: archaic style.
After Lorenzo Roecheggiani, Raccolta di cento tavole rappresentanti i costumi religiosi, civili e militari degli antichi Egizziani, Etruschi, Greci e Romani, tratti di antichi bassirilievi, Roma 1804.
Source: History of the costume in chronological development by Albert Charles Auguste Racinet. Edited by Adolf Rosenberg. Berlin 1888.
Roman Clothing and Fashion by Alexandra Croom.
In this richly illustrated survey, Alexandra Croom describes the range and style of clothing worn throughout the Western Empire and shows how fashions changed between the first and the sixth centuries.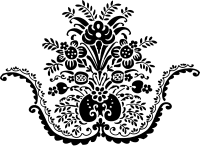 Priestess of Demeter (Ceres) with long-sided diploidion or ampechonion.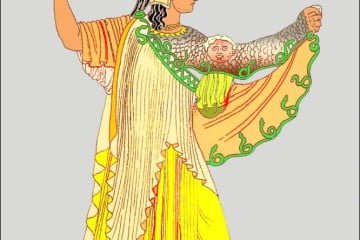 Pallas Athene. The peplos and diploidion, and the Gorgoned aegis extended as a covering to the arm that holds the…
The scholars and writers on antiquities, up to the time of Winckelmann, apply the term Fauns to the human figures…
Related