Lingerie Shop in Paris, around 1770.
THE Vignette represents the Shop of a Lingerie; the Mistress brings under her arm a roll of canvas to show it to a Lady, in front of whom two Shop Girls have a piece of canvas; several other Girls are busy in the service of the Shop.
Pattern of the most common underwear for woman, man and child around 1770. Alphabetical and numerical embroidery patterns.
PLANCHE PREMIERE.
LA Vignette représente la Boutique d'une Lingerie; la Maîtresse apporte sous san bras un rouleau de toile pour le faire voir à une Dame, devant laquelle deux Fille de Boutique aunent une piece de toile; plusieurs autres Filles font occupées au service de la Boutique.
I. Linge de sein.
II. Coupe du Béguin.
III. Béguin monté.
IV. Tour de Bonnet de laine.
V. Têtiere.
VI. Cornette pour la nuit,
VII. Bonnet rond.
VIII. Lange piqué.
IX. Petits bras.
X. Chemise de Brassiere.
XI. Coupe de la Chemise de Brassiere.
XII. Tour de Lange.
XIII. Bavoir.
XIV. Chaussettes du premier âge.
XV. Chemise du premier âge.
XVI. Biais.
PLANCHE II.
A, Chemise de Femme à l'Angloise.
B, Chemise de Femme à la Françoise.
C, Autre Chemise de Femme à l'Angloise.
D, Coëffure de dentelle.
E, Coëffure à deux rangs ou à Bavolet.
F, Bonnnet piqué.
G, Grande Coëffe en mousseline.
H, Petite Coëffe à la Reine.
I, Peignoir en pagode.
K , Manchettes à trois rangs.
L, Mantelet en mousseline.
M, Coqueluchon du Mantelet.
PLANCHE III.
AA, Dedans de Berceau, autrement dessus d'Archet.
BB, Chemise d'Homme.
CC, Manches en amadis.
DD, Col d'Homme.
EE, Manchettes de Botte.
FF, Chaussons.
GG, Tablier de Valet-de-Chambre.
HH, Coëffes de Bonnet.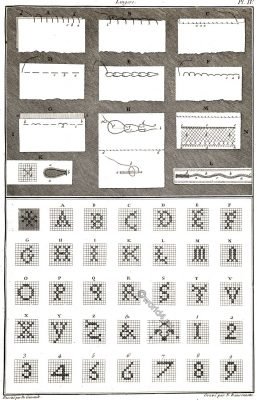 PLANCHE IV.
A, Le Surjet.
B, Le Point noué ou de boutonniere.
C, Le Point de côté.
D, Le Point devant.
E, Le Point de chaînette,
F, L'arriere-Point.
G,M,H, Trois Figures pour la Couture rabattue.
Source: L'art de la lingere by François Alexandre Garsault. Published 1771.
Related
---
Support and Seduction: The History of Corsets and Bras (Abradale Books) by Beatrice Fontanel.
Thoughout the ages, women's breasts have been subjected to the endless whims of fashion. From the ancient Greeks to Mae West and Madonna, this light-hearted book charts the changing shapes of female beauty. The elegant and amusing images - including fashion drawings, paintings, photographs, and film stills - illustrate the often surprising history of the garments women have worn for support - and seduction.
---