Costume of the Members of The Council of the Five Hundred.
THE Members who make up the Council of the Five Hundred and One hundred, wear the long white dress, the blue belt, the scarlet coat, (all in wool) and the blue velvet hat.
The Council of the Five Hundred (Conseil des Cinq-Cents) and the Council of the Ancients (Conseil des Anciens) were the two chambers of the French Parliament from the introduction of the Directorial Constitution in 1795 to the introduction of the Consular Constitution at the end of 1799.
COSTUME DES MEMBRES DU CONSEIL DES CINQ-CENTS.
LES Membres qui composent le Conseil des Cinq-Cents, portent la robe longue et blanche, la ceinture bleue, le manteau écarlate, (le tout en laine) la toque de velours bleu.
Ce Conseil a l'initiaive des lois; c'est dans son sein que se forment les résolutions qui sont présentées au Conseil des Anciens. Le Directoire exécutif communique directement avec lui; il lui présente tous les grands objets qui peuvent influer sur le bonheur public, et toutes les lois qui sont nécessaires à la prospérité de la République. Dans ce Conseil, la carrière est ouverte au génie; les orateurs peuvent donner l'essor à leur imagination, produire de grandes idées, des projets utiles, de vastes conceptions.
L'éloquence doit obtenir à cette tribune les triomphes les plus signalés, et renouveler ces prodiges qui font la gloire de l'antique Rome et de la savante, Athène. Il est permis au vrai talent de se laisser maîtriser par l'enthousiasme du beau, du grand et du sublime, par les nobles élans d'un cœur enflammé de l'amour de la patrie 1 par les grandes conceptions du génie.
Source: Costumes des représentans du peuple, membres des deux conseils, du directoire exécutif, des ministres, des tribunaux, des messagers d'état, huissiers, et autres fonctionnaires publics, etc. by Jacques Grasset de Saint-Sauveur. Paris: Chez Deroy 1796.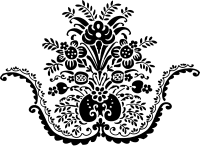 Related