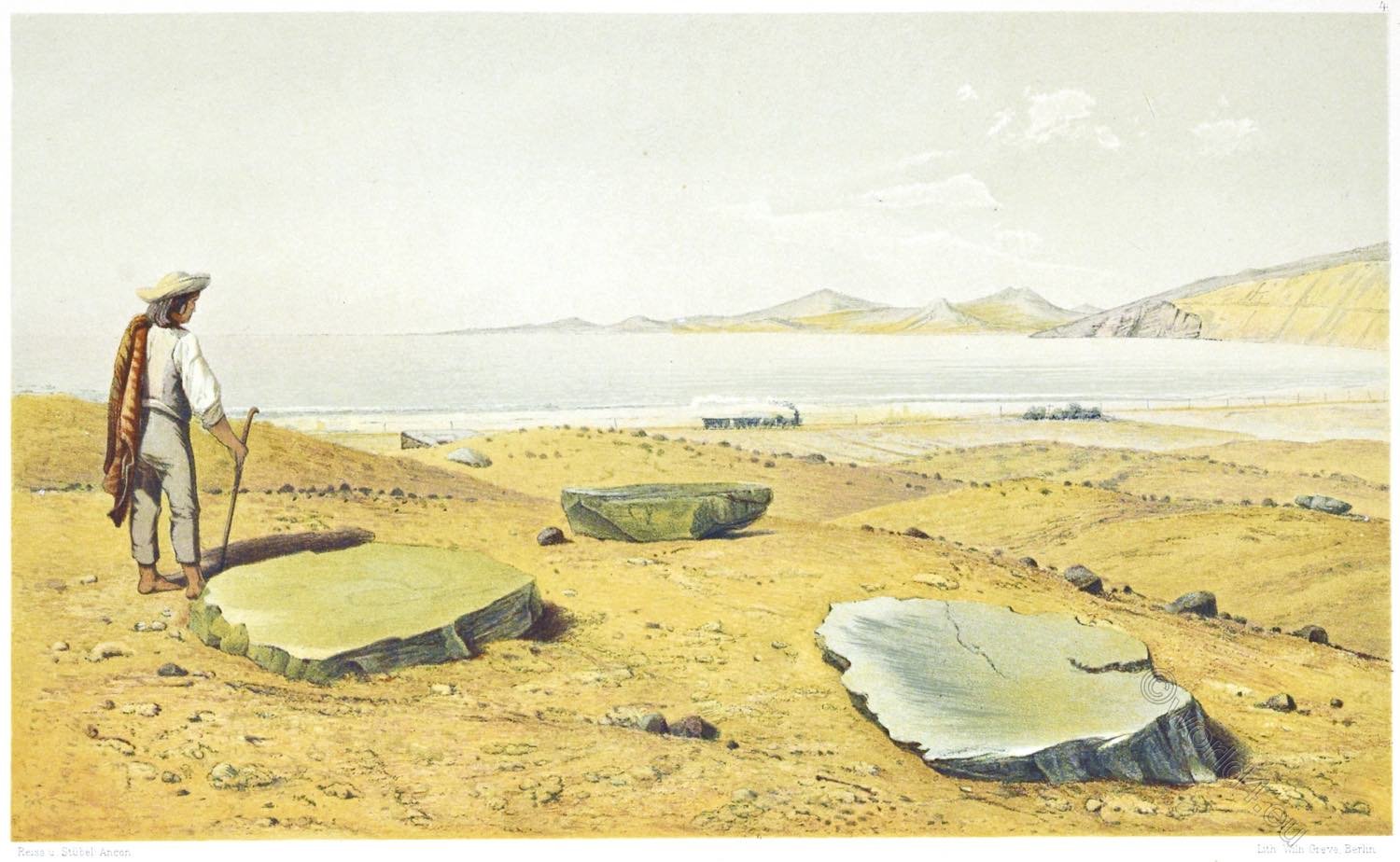 PLATE 4.
THE NORTHERN PART OF ANCON BAY, AND THE MILL-STONES OF THE NECROPOLIS.
While the first landscape (Plate 2. Fig. 1) afforded a view of the Necropolis from the sea, here we have a seaward prospect from the Necropolis, commanding the northern section of Ancon Bay. It is taken from the hills in the south-west corner, which rise near the huts of the fishing village to a height of about sixty-five feet above sea-level.
Lying on the surface at this spot are some thirty large irregularly fashioned stones, whose artificially wrought upper sides present a smooth and almost polished appearance. Three of them, disposed in the foreground without order, are faithfully reproduced in form and proportion. They consist of diorites and syenites, such as enter into the composition of the neighbouring hills; yet the hewing and dressing of such large blocks must have been a work of some difficulty.
In all probability they must have served as nether mill-stones in the grinding of maize for the preparation of Chicha, such like stones being still used for this purpose in Peru and many other places.
The hills of the Necropolis gradually merge with the level, sandy beach crossed by the railway line indicated in the view. After a sharp curve at the north end of the bay, the line surmounts a high cliff on the steep, sand-covered slopes (Plate 2. Fig. 1), thence taking its course towards the Chaneay hills visible in the distance. In this section it also touches on a burial-place, less in extent, and apparently containing but few still unrifled graves.
Source: The necropolis of Ancon in Peru: a contribution to our knowledge of the culture and industries of the empire of the Incas being the results of excavations made on the spot by Wilhelm Reiss (1838-1908); Alphons Stübel (1835-1904), joint author; Wilhelm Greve, lithographer; Augustus Henry Keane (1833-1912), translator; Ludwig Wittmack (1839-1929); Rudolf Virchow (1821-1902); Alfred Nehring (1845-1904). Berlin: A. Asher & Co.; New York : Sole agent for America, Dodd, Mead & Company, 755 Broadway, 1880.
Continuing
I. The Necropolis and Neighbourhood.