Peja. Serbian national costumes from Kosovo, Peć.
Народна носња са Косова, Пећ.
By Vladimir Kirin.
Peja (Albanian also Pejë, Serbian Пећ Peć, Cyrillic Peћ) is a city in western Kosovo 70 km west of the capital Pristina and a few kilometres from the Montenegrin border and about the same distance northeast of the border with Albania. It is built at the foot of the Cursed Mountains (Alb.: Bjeshkët e Nemuna, Serb.: Prokletije) and is crossed by the Bistrica River. The White Drin, Kosovo's largest river, rises not far from the town in the mountainous regions on the way to the Montenegrin border. Peja is also the seat of the Peja district.
It is almost entirely inhabited by Albanians and has an oriental character, with its mosques, bazaars and old Turkish houses. The city is very old and is mentioned by Ptolemy in his "Geographics". It was probably founded by Illyrians and was known in Roman times as Pescium. The city became an important cultural, intellectual and commercial centre during the medieval Serbian period, under the name Peć, which means chamber.
It was an important Christian religious centre, as it was the seat of the Serbian Archbishopric of Ipec in 1346-1463 and 1557-1766. During the Ottoman rule, the city was known as Ipek and today, among its attractions, there are fine examples of Ottoman urban architecture, with typical residences of the city's wealthy merchants.
The bustling Ottoman bazaar flourishes to this day and retains the special characteristics of the Ottoman era. The adjacent Tahir Bey Palace is an excellent example of Ottoman architecture. There is also an ethnographic museum in the city, adjacent to the bazaar.
A landmark of the city is the famous 15th century Bayrakli Mosque, where there is a small Ottoman cemetery and an elaborate stone fountain. Dating back to 1471, the mosque was severely damaged by Serbian paramilitary groups in 1999, but was again fully restored with the help of Italian NGOs.
But the most important tourist attraction in Peja is the Pećka Patrijaršija (Serbian: Pećka Patrijaršija), located at the entrance to the Gryka e Rugovës (Gryka e Rugovës) Gorge, a short distance from the town. It dates back to the 13th century and is adorned with magnificent frescoes dating back to the time of its foundation, around 1260. It is the spiritual seat and mausoleum of the Serbian archbishops and patriarchs. The famous iconostasis of the Holy Apostles was built by Archbishop Arsenije I in the first decade of the 13th century.
The neighbouring Dečani Monastery (Serbian: Manastir Visoki Dečani), founded in 1327 by Tsar Stefan Dusan, is located 19 km south of Peja. There are more than 1,000 frescoes depicting saints, prophets and biblical scenes. It is one of the oldest examples of Serbian architecture and decorative art.
Source: Vladimir Kirin. Serbian national costumes. Srpske nacionalne kostime.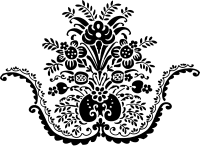 Related