17th century large buckled shoe. Baroque fashion period.
PLATE X.
THIS large buckled shoe was worn in the reign of Queen Anne (6 February 1665 – August 1714), though, unfortunately, the name of its owner cannot be ascertained. The material is pink silk; the embroidery in silks and metallic threads is very rich, and the colours wonderfully preserved. The heel is of an immense height and breadth, and the toe so extravagantly pointed, that it must have protruded for a considerable distance beyond the foot.
Source: Ladies' old-fashioned shoes by T. Watson Greig 1885.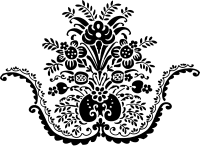 Related
---
Support and Seduction: The History of Corsets and Bras (Abradale Books) by Beatrice Fontanel.
Thoughout the ages, women's breasts have been subjected to the endless whims of fashion. From the ancient Greeks to Mae West and Madonna, this light-hearted book charts the changing shapes of female beauty. The elegant and amusing images - including fashion drawings, paintings, photographs, and film stills - illustrate the often surprising history of the garments women have worn for support - and seduction.
---