Shoe fashion under Louis XIV. France 1643-1715.
Shoes. The History of French Women's Costume. Fashions under Louis XIV, 1643-1715 – Plate 11.
Shoes:
Black satin shoe, red heel, instep tab; silver buckle.
Chestnut brown satin shoe, red heel, square toe, silver buckle, yellow and blue ribbon bow on side.
Beaver muff, gold embroidered chamois ribbon, trimmed with fringes.
Widow's habit, black satin, long train, white lingerie cuffs, black gauze veil.
Pale blue evening shoe, top of foot and instep heel in yellow brown, ribbon cabbage in the same tone.
Pink satin shoe, brown brocaded damask toe, light brown heel; pink ribbon bow.
Morning shoe in blue satin, pointed; sky-blue ribbon cabbage.
Orange morocco shoe, red heel, high instep.
Green morocco clog shoe with yellow embroidery and scalloped edges.
Shoe (double).
Pointed toe, one-piece vamp, black embroidery motif on a mouse grey background, edged in black leather.
Black silk stockings. Blue satin ribbon garter. White shoe, red heel, blue picot ribbon.
Silver-grey satin shoe, red heel, high instep, fringed pink ribbon bow reminiscent of the dress.
Court shoe in white satin with silver embroidery, very pointed; a long scalloped tab forms the sole of the instep.
Source: Les modes sous Louis XIV, 1643-1715. L'Histoire du Costume Feminin Francais. Paul Louis Victor de Giafferri. 
Chaussures. L'Histoire du Costume féminin français. Les modes sous Louis XIV, 1643-1715 – Planche 11
Chaussures
Chaussure de satin noir, talon rouge, patte sur le cou de pied; boucle argent.
Chaussure satin marron chataîgne, talon rouge, bout carré, boucle en argent, nœud de ruban jaune et bleu sur le côté.
Manchon de castor, ruban chamois brodé or, garni de franges.
Habit de veuve, satin noir, grande traîne, poignet de lingerie blanche, voile de gaze noire.
Chaussure de soirée bleu pâle, dessus du pied et cou de pied talon marron jaune, chou de ruban même ton.
Chaussure en satin rose, le bout en damas broché marron, talon marron clair; nœud de ruban rose.
Chaussure du matin en satin bleuroy, pointue; chou de ruban bleu ciel.
Chaussure maroquin orange, talon rouge, haute patte sur le cou de pied.
Chaussure forme sabot en maroquin vert, broderie jaune, bord de la chaussure festonné.
Chaussure (double).
Chaussure pointue, empeigne d'une seule pièce, motif de broderie noire sur fond gris souris, liséré de cuir noir autour.
Bas noir en soie. Jarretière de rubans bleus, en satin. Chaussure blanche, talon rouge, ruban bleu à picot.
Chaussure satin gris argent, talon rouge, haute patte sur cou de pied, frange nœud de ruban couleur rose rappelant la robe.
Soulier de cour en satin blanc broderie argent, très pointu; une longue patte festonnée forme seule le cou de pied.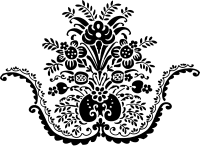 Related
---
Support and Seduction: The History of Corsets and Bras (Abradale Books) by Beatrice Fontanel.
Thoughout the ages, women's breasts have been subjected to the endless whims of fashion. From the ancient Greeks to Mae West and Madonna, this light-hearted book charts the changing shapes of female beauty. The elegant and amusing images - including fashion drawings, paintings, photographs, and film stills - illustrate the often surprising history of the garments women have worn for support - and seduction.
---