The American Duchess Guide to 18th Century Dressmaking: How to Hand Sew Georgian Gowns and Wear Them With Style by Lauren Stowell (Author), Abby Cox (Author).
Lauren Stowell and Abby Cox of American Duchess have endeavored to make the impossible possible by bringing historically accurate dressmaking techniques into your sewing room. Learn how to make four of the most iconic 18th century silhouettes―the English Gown, Sacque Gown, Italian Gown and Round Gown―using the same hand sewing techniques done by historic dressmakers.
Franz Napoleon Heigel (1813-1888).
Portrait of his sister Henriette c. 1835.
Franz Napoleon Heigel, a son of Josef Heigel, was born in Paris on 15 May 1813. The artist studied in Paris under Guérin *), to whom he owed much. Heigel skilfully imitated the elegant free manner of the great Frenchman. Later he continued his studies at the Munich Academy. After various journeys in Germany and abroad, Franz Napoleon Heigel finally settled permanently in Munich. We learn from the master's virtuously painted self-portrait from 1830 that the artist already produced mature achievements at the age of 17. The characteristic portrait of a distinguished Turk is also a highly respectable achievement for an eighteen-year-old. No less interesting works are: the portrait of Olga Nicolaevna, Queen of Württemberg and the painting of his sister Henriette.
*) Baron Pierre Narcisse Guérin 1774-1833, was a French neoclassical painter, pupil of Hughes Taraval and Nicolas Guy Brenet. He was a member of the Académie des beaux-arts and director of the Villa Medici in Rome.
Franz Napoleon Heigel painted a large number of miniatures for the Leuchtenberg family, including Duke Maximilian von Leuchtenberg. The artist also painted Field Marshal Prince Wrede, who was one of the most popular and esteemed miniature painters in Munich in the first half of the nineteenth century.
Heigel was much employed by the Bavarian kings Louis I and II. Louis II appointed him as court painter. Miniatures by the artist's hand are often found in private collections. For example, Miss von Görres owns a miniature portrait (16:12cm) of the singer Katharina Sigl-Vespermann in a black velvet dress with a red turban. The painting is inscribed: "F. N. Heigel 1838." Miss von Görres also owns a miniature by Franz Napoleon's father, the miniature painter Josef Heigel. This oval miniature depicts a lady in a red costume with lace and pearl strings, a white feather on her hat. The miniature is inscribed: "J. Heigel 1828.
The "Augsburger Abendzeitung" of 25 June 1888 dedicated a long obituary to Franz Napoleon Heigel. It reads: "Munich, 25 June. Yesterday afternoon at 4 o'clock, an old artist of Munich was laid to rest in the Southern Cemetery, namely one whose work was a special characteristic of portrait painting at that time, one of those old people who once formed a happy, artistic community at the "Schafroth" and "Stubenvoll" tables: the royal court painter Franz Heigel…. . He came to Munich as a boy, later attended the academy and in 1828 returned to Paris to train in miniature portraiture under the guidance of the famous Jean Guérin. His lively striving for perfection took him on art study trips around France, Belgium and Italy. In 1838 he returned to Munich as an accomplished master and took up permanent residence there. He then travelled temporarily in the company of the Russian colonel Barishnikov, who was a patron of the arts at the time.
King Louis I, the true artist-king, henceforth honoured Heigel with the most valuable commissions and also appointed him as drawing teacher to the royal princesses. Heigel's work was immensely comprehensive and fruitful; the very highest and highest persons only wanted to be portrayed by him; there was hardly a crowned head at that time whose portrait Heigel had not created, and he created them in such a dignified manner that reproductions of his miniature portraits are still highly valued today. King Louis I had himself painted twice by Heigel.
When the emergence of photography pushed miniature painting more and more into the background, Heigel turned to genre painting and became an important watercolourist. King Louis I commissioned him, among other things, to reproduce Echter's Nibelung cycle in watercolour, and the Société des Aquarellistes de Belge appointed Heigel an honorary member. Louis Il also held Heigel in very high esteem. He gave him the title of royal court painter in 1869, awarded him the Louis Medal for Art and Science in 1872 and the Order of Merit I. Class of St. Michele in 1883. Heigel, a true artist, was also a thoroughly noble, upright man.
Since 1853 he had been happily married to Emma, née von Schiber, daughter of a government councillor from here. Peace and harmony were the two pillars of his family life. Only one thing shook his domestic happiness and in its effect was, so to speak, the beginning of his end: the sudden and premature death six years ago of his only son, a general practitioner. From then on, both his health seemed to be deprived of its firm support and his always fresh sense of humour began to wilt. Last winter, he suffered an attack of illness that made him fear the worst. But once again he seemed to pull himself together and be given back to life for a longer time. It was only the last flicker of life's light before it went out: on 23 June at noon, a stroke suddenly and unexpectedly put an abrupt end to his rich artistic and human life. With him, a true artist, a noble human being has departed."
Source: The Portrait Miniature in Germany from 1550 to 1850 by Ernst Lemberger. Munich: F. Bruckmann, 1909.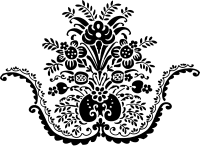 ---
Support and Seduction: The History of Corsets and Bras (Abradale Books) by Beatrice Fontanel.
Thoughout the ages, women's breasts have been subjected to the endless whims of fashion. From the ancient Greeks to Mae West and Madonna, this light-hearted book charts the changing shapes of female beauty. The elegant and amusing images - including fashion drawings, paintings, photographs, and film stills - illustrate the often surprising history of the garments women have worn for support - and seduction.
---