The American Duchess Guide to 18th Century Dressmaking: How to Hand Sew Georgian Gowns and Wear Them With Style by Lauren Stowell (Author), Abby Cox (Author).
Lauren Stowell and Abby Cox of American Duchess have endeavored to make the impossible possible by bringing historically accurate dressmaking techniques into your sewing room. Learn how to make four of the most iconic 18th century silhouettes―the English Gown, Sacque Gown, Italian Gown and Round Gown―using the same hand sewing techniques done by historic dressmakers.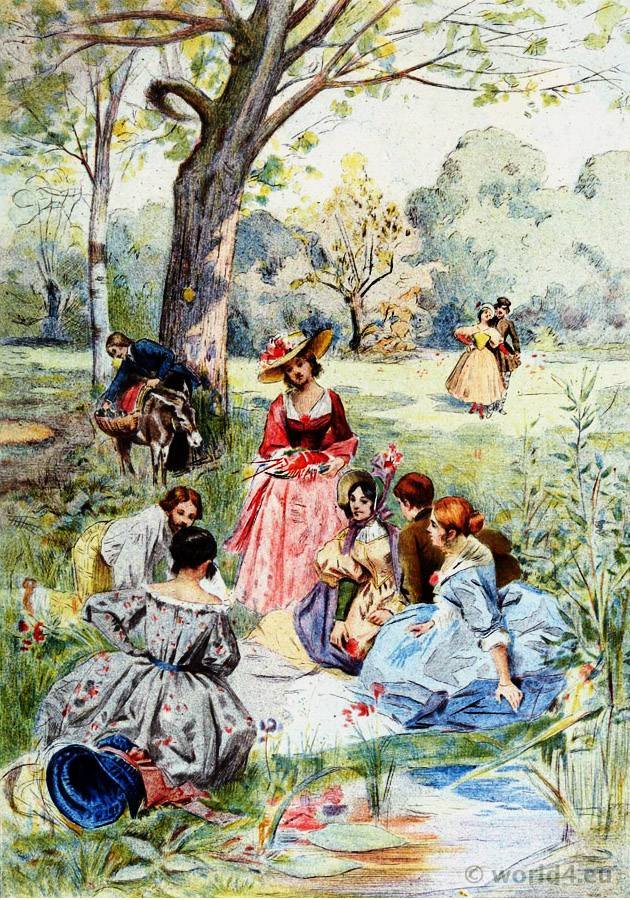 The Lionesses and Fashionables.
Lionnes et Fashionables.
Second Empire
EVERY woman of fashion in 1842, at the time when Fréderic Soulié published Le Lion Amoureux and Charles de Bernard La Peau de Lion, was newly baptized by the dandies, who appeared to go to the Jardin du Roi for their models of bearing and elegance; it was nothing but Lionesses, Panthers, Tigers, and Rats; one might for an instant suppose oneself in a fashionable menagerie, such amiable complaisance was shown by our Merveilleux in the employment of these different expressions.
A Physiology of the Lion became necessary; it very soon appeared under the signature of Félix Deriège, with designs by Gavarni and Daumier. The author, in an introduction in biblical style, initiates us in the most ingenious manner in the world into the genesis of the savage king of the new Fashion. "In the beginning," says he, "a crowd of charming creatures adorned the diverse countries of the elegant world. "And Fashion saw that a king was wanting to all these beings which her caprice had formed." And she said: "Let us make the Lion in our image after our likeness!
"Let him have dominion over the Boulevard!" Let the Opera become his conquest! "Let him command in all places, from the Faubourg Montmartre to the Faubourg Saint-Honore." And the Lion appeared. "Then he assembled his subjects around him, and gave to every one his name in the fashionable tongue." He called some of them Lionesses—these were feminine beings, richly married, coquettes, pretty, who managed perfectly the pistol and the riding-whip, rode on horseback like lancers, prized highly the cigarette, and disdained not iced champagne.
Source: The Frenchwoman of the century; Fashions – Manners – Usages, by Octave Uzanne. Illustrations in water colours by Albert Lynch. Engraved in colours by Eugène Gaujean.
---
Support and Seduction: The History of Corsets and Bras (Abradale Books) by Beatrice Fontanel.
Thoughout the ages, women's breasts have been subjected to the endless whims of fashion. From the ancient Greeks to Mae West and Madonna, this light-hearted book charts the changing shapes of female beauty. The elegant and amusing images - including fashion drawings, paintings, photographs, and film stills - illustrate the often surprising history of the garments women have worn for support - and seduction.
---