The American Duchess Guide to 18th Century Dressmaking: How to Hand Sew Georgian Gowns and Wear Them With Style by Lauren Stowell (Author), Abby Cox (Author).
Lauren Stowell and Abby Cox of American Duchess have endeavored to make the impossible possible by bringing historically accurate dressmaking techniques into your sewing room. Learn how to make four of the most iconic 18th century silhouettes―the English Gown, Sacque Gown, Italian Gown and Round Gown―using the same hand sewing techniques done by historic dressmakers.
Otto Wustlich. Portrait of the Royal Princess Alexandra of Bavaria (1826-1875).
Otto Wustlich: Portrait of Princess Alexandra of Bavaria (after an oil painting by J. Stieler). Born 26 August 1826; died 1875. Half-length portrait without hands, almost from the front. Roses in her brown hair, blue eyes. White, cut-out, frilled dress with blue shell-shaped jewellery, delicate white lace veil. Background dark brown. Porcelain, oval 9.6:12.7cm. Property of His Royal Highness the Grand Duke Friedrich II of Baden.
Otto Wustlich (1819-1886), the excellent porcelain painter, was born on 23 March 1819 in Pfaffendorf in Lower Franconia. He died on 10 April 1886 in Schönberg near Passau. The seventeen-year-old received his first art lessons in 1836 from C. Schmidt in Bamberg. The artist worked in the town for a number of years. In 1852 he left Bamberg to settle permanently in Munich. In 1854 Wustlich became a state pensioner at the Royal Academy in Munich. The artist can be counted among the best German porcelain painters.
Source: The Portrait Miniature in Germany from 1550 to 1850 by Ernst Lemberger. Munich: F. Bruckmann, 1909.
Alexandra Amalie Princess of Bavaria (1826-1875) was a member of the Bavarian royal family from the House of Wittelsbach who devoted her life to literature. She worked as a writer and translator.
Alexandra Amalie was the fifth and youngest daughter of King Ludwig I of Bavaria and his wife, Princess Therese of Saxe-Hildburghausen. Her eldest brother was Maximilian II, another the later Prince Regent Luitpold. She was particularly attached to her mother and after her death tried "to be pleasant and useful to her father".
Unmarried throughout her life, she lived alternately in the Munich Residenz, in Berchtesgaden, at Leopoldskron Castle, at Villa Ludwigshöhe near Edenkoben and in Aschaffenburg. In later years, at her father's request, she became Supreme Superior and Abbess of the Royal Ladies' Convent Zur Heiligen Anna in Munich and Würzburg.
In 1852, Alexandra began her literary career. Her first book of stories was entitled Weihnachtsrosen (Christmas roses). The following year, she published her second book Souvenirs, pensées et essais. In 1856, (Field flowers) appeared, the proceeds of which were donated to an orphanage. In 1858, he published Phantasie- und Lebensbilder (Fantasy and life pictures).
In 1862, she translated some of Eugenio Foa's romances into German, and the following year Thautropfen, a collection of stories that she translated from French into German, some of which she wrote herself.
In 1870, Alejandra translated texts again, this time it was the turn of Arnaud Berquin's children's plays, which were translated into German in the book Das Kindertheater (Children's Theatre). In the same year, The First of the Month appeared, another translation, this time by Jean-Nicolas Bouilly. In 1873, Princess wrote Lily of the Valley. Alexandra collaborated on Isabella Braun's journal Jugendblätter (Youth bulletins).
Several mental disorders are attributed to Alexandra, including an exaggerated urge for cleanliness. According to this source, her clothes had to be brushed daily. Often, the evening cleaning rituals took hours, so that her father instructed the princess to go to rest at 11 p.m. at the latest. As she grew older, she also suffered from the delusion of having swallowed a glass piano. Such and similar behavioural disorders – other sources mention a pathological fear of being touched – were perhaps the real reason why the princess could not be married. Even a three-year stay in the Illenau asylum could not change her suffering.
Alexandra died in 1875 at the age of 49 in Nymphenburg Palace. Her body was buried in the crypt of the Theatinerkirche in the Bavarian capital.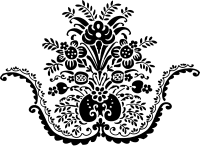 ---
Support and Seduction: The History of Corsets and Bras (Abradale Books) by Beatrice Fontanel.
Thoughout the ages, women's breasts have been subjected to the endless whims of fashion. From the ancient Greeks to Mae West and Madonna, this light-hearted book charts the changing shapes of female beauty. The elegant and amusing images - including fashion drawings, paintings, photographs, and film stills - illustrate the often surprising history of the garments women have worn for support - and seduction.
---