THE EMPRESS OF AUSTRIA.
Elisabeth (24 December 1837 – 10 September 1898) was Empress of Austria and Apostolic Queen of Hungary through her marriage to her cousin Franz Joseph I from 1854.
THIS Imperial personage belongs to the royal family of Bavaria. Her uncle was the King of Bavaria, Louis I. (1786-1868) of the Wittelsbach family, who is a most munificent patron of the arts, upon which he has bestowed immense expenditures of money to beautify and adorn his capital, the city of Munich, with galleries of paintings and statuary, to attract the admiration of all visitors.
Elisabeth was born on Christmas Eve 1837 at a quarter to eleven o'clock in Munich in the Herzog-Max-Palais in Ludwigstraße. That she had a milk tooth in her mouth when she was born was considered a happy omen.
Her cousin was King Otto of Greece. Her grandfather, Maximilian Joseph, was the first King of Bavaria when Napoleon I. erected it into a kingdom in 1800. This King gave his daughter in marriage to Prince Eugène-Rose de Beauharnais, the son of the Empress Josephine, of imperial renown. Hence the name of the Empress of Austria is Elizabeth Amelia Eugenie, daughter of the Duke of Bavaria, and a descendant of the Empress Josephine. She was born in Munich, and educated in all the accomplishments of royalty as one of the King's daughters.
She was married to the Emperor Francis Joseph, April 24, 1854. She was the mother of three children, – Sophia, a daughter, born in 1855; Gisela, in 1850; and a son, Rudolph, in 1858. Sophia died at Buda, in 1857, during an imperial journey. In 1889 Rudolf took his own life together with his young lover Mary Vetsera at Mayerling Castle. This stroke of fate hit Elisabeth hard, from then on she only wore black.
On September 10, 1898 the Empress left the Hotel Beau-Rivage at about 13:30. The Beau-Rivage is a luxury hotel in Geneva and is located on the Quai du Mont Blanc, directly on the shore of Lake Geneva. As she walked along the lake promenade Quai Mont Blanc in the company of her court lady Irma Sztáray, the Italian anarchist Luigi Lucheni threw himself at her and struck a sharp file in her heart. Her last words were supposed to be, "But what happened to me?"
Men and women of her time raved about the beauty of Elisabeth, but were also attracted by her grace, charisma and the mysterious aura that surrounded her. Elisabeth was regarded as one of the most beautiful women of her time and was well aware of this. Her beauty care took up much of her daily routine. Elisabeth was particularly proud of her thick hair. Ahead of her time she pursued a real body cult, did a lot of sports and paid a lot of attention to her figure.
To preserve the youth of her face, she laid pressed beef on her face overnight. This was nothing unusual at the time; many women took these measures at that time.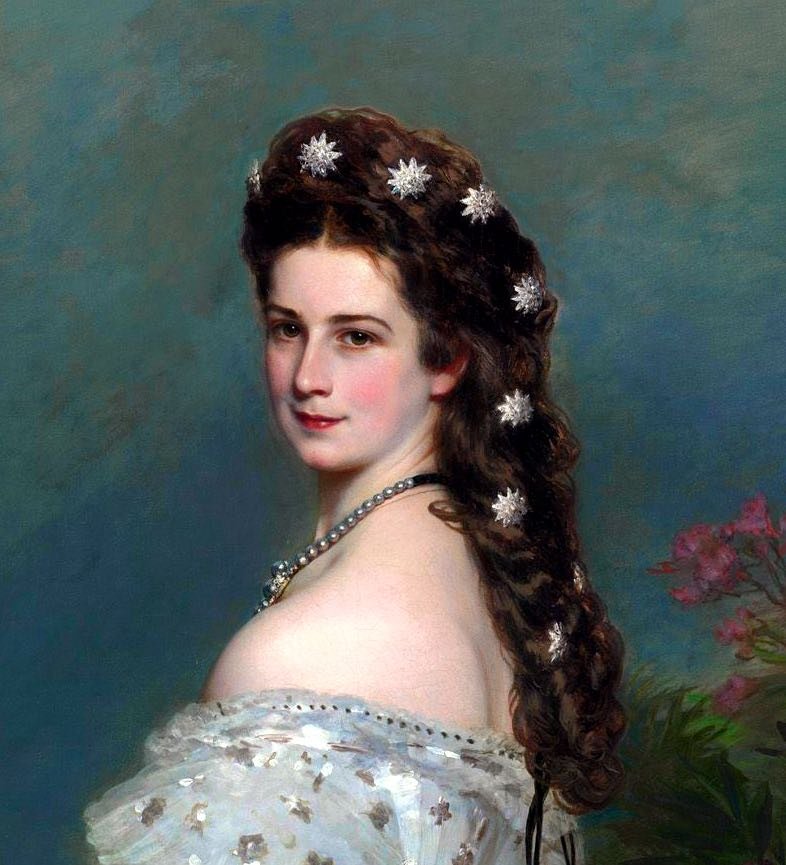 Elisabeth received diamond stars as hair ornaments on the occasion of her wedding, which she could wear individually or put together as a tiara. The stars had eight or ten points and were about 3.5 cm tall, arched and lavishly set with large diamonds, some with pearls. They were produced in various jewellery and jewellery studios, including the court jeweller Alexander Emanuel Köchert. The set depicted in Winterhalter's portrait consisted of a total of 27 stars.
Through strict diets and tight corsets she brought her wasp waist (46 cm) into shape and became a fashion icon. In contrast to other women of her time, Elisabeth strictly rejected strong make-up or perfume. She attached great importance to naturalness. Only her hair was sprayed with aromatic essences.
The Elisabethstraße, named after her, and the Elisabethmarkt on Elisabethplatz are located in the Schwabing district of Munich, near her birthplace.
The portrait forms a match-print to that of the Emperor, both taken at Vienna.
Source: Imperial courts of France, England, Russia, Prussia, Sardinia, and Austria by Walter Hilliard Bidwell. New York: C. Scribner, 1863.