The history of French women's costume. Fashions under Louis XVI and Marie Antoinette 1774-1789. Rococo fashions. Dresses – Plate 1.
L'histoire du costume féminin français. Les modes sous Louis XVI et Marie Antoinette 1774−1789. La Mode du Rococo. Robes – Planche 1.
Dresses. Precious extravagance under Louis XVI.
Robes. Extravagance précieuse sous Louis XVI.
1. White taffeta négligé edged with chine pink taffeta, edged with English green, with rosette, white taffeta mantelet trimmed with fancy gauze. 1. Déshabillé de taffetas blanc bordure de taffetas rose chine, bordé de vert anglais, à rosette, mantelet de taffetas blanc garni de gaze fantaisie.
2. Dress à la Créole; large blue muslin dress with sleeves tight at the wrist, fitted at the waist, low-cut. White ribbon belt. Poppy sleeveless camisole, the sleeves of the dress are made of amadis. 2. Vêtement à la Créole; grande robe de mousseline bleue à manches justes serrées au poignet, ajustée à la taille, décolletée. Ceinture de ruban blanc. Caraco à coqueluchon sans manches, celles de la robe sont en amadis.
3. Levite dress, straw yellow with taffeta sash, childhood hairstyle, royal blue felt hat. 3. Robe lévite, jaune paille avec ceinture cie taffetas, coiffure à l'enfance, chapeau en feutre bleu roy.
4. Levantine dress, blue grey, trimmed with ermine, Créole hairstyle. 4. Robe à la levantine, gris bleu, garnie d'hermine, coiffure à la Créole.
5. Polish dress in plain water-green fabric, with bonnet, bubbled with ribbon in the same shade, fairly short. 5. Robe polonaise d'étoffe unie vert d'eau, à capuchon, bouillonné de ruban même teinte, assez courte.
6. Dress inspired by an Opera gown in ivory taffeta, embroidered with gold thread. 6. Robe inspirée d'une robe de l'Opéra en taffetas ivoire, brodée de fil d'or.
7. Levite dress, with two pleats at the back, straight, stopped at the waist, with a scarf ending in tassels. 7. Robe à la lévite, à deux plis derrière, toute droite, arrêtée à la taille, avec une écharpe dont les bouts se terminent par des glands.
8. Gemstone and pearl belt buckle with antique carneas. 8. Boucle de ceinture pierreries et perles, avec des carnées antiques.
9. Fine pearl medallion with initials in fine pearls. 9. Médaillon de perles fines avec initiales en perles fines.
10. Enamel brooch surrounded by rubies. 10. Broche en émail entourée de rubis.
11. Octagonal cameo surrounded by small gold pearls. 11. Médaillon camée de forme octogonale, entouré de petites perles d'or.
12. Chased silver shoe buckle with rubies and emeralds. 12. Boucle de soulier en argent ciselé, avec rubis et émeraudes.
13. Long linen sleeve with double flounce falling over the hand, trimmed with bias binding. 13. Manche longue en linon avec volant double retombant sur la main, bordè d'un biais gansé.
14. Lingerie sleeve with pleated ribbon flounce at wrist 14. Manche de lingerie avec volant de ruban plissé au poignet.
15. Sticky sleeve, embroidery anglaise flounce. 15. Manche collante, volant de broderie anglaise.
Source: L'Histoire du Costume Féminin Français. Les Modes de la Renaissance de l'an 1461 à l'an 1574. Paul Louis Victor de Giafferri.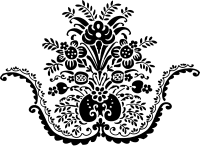 Continuing
---
Support and Seduction: The History of Corsets and Bras (Abradale Books) by Beatrice Fontanel.
Thoughout the ages, women's breasts have been subjected to the endless whims of fashion. From the ancient Greeks to Mae West and Madonna, this light-hearted book charts the changing shapes of female beauty. The elegant and amusing images - including fashion drawings, paintings, photographs, and film stills - illustrate the often surprising history of the garments women have worn for support - and seduction.
---