The gondola is black with a white carpet at the bow, which is provided with an iron point. Inside the gondola the wood of the benches is of light colour. The cabin is covered with a black carpet.
The gondolier wears a red cap with a white rolled rim. The pourpoint is made of blue velvet; the sleeves show the shirt on the shoulders and elbows. Belt, purse and dagger are decorated with silver. The shoes are yellow.
The lady sitting in the gondola has shiny sleeves in the upper part like lacquer which are decorated with pearls. The hair is woven with a pearl thread. The wide cut sleeve shows the yellow shirt worn underneath. This lady is accompanied by a high-ranking lady dressed entirely in black, except for a small white veil on her chest.
Gondole Vénitienne.
Les gondoles de Venise conservent depuis plusieurs siècles leur forme svelte et leur légèreté; la situation singulière de celte ville qui semble sortir du sein des flots en a dû rendre de tout temps l'usage indispensable et a dû en faire perfectionner de bonne heure la construction. Celle que je donne dans la planche suivante est extraite d'un tableau de Gentile Bellino, conservé dans l'académie des beaux arts à Venise.
La gondole est noire avec un tapis blanc sur la proue qui est terminée par une pointe garnie de fer. Dans l'intérieur le bois de la gondole et les bancs sont d'une couleur claire. La cabanne est recouverte d'un tapis noir.
La dame qui est assise dans la gondole a des manches pendantes couleur de laque et garnies de perles dans la partie supérieure. Les cheveux sont entortillés avec un fil de perles. La manche pendante laisse voir la chemise à l'épaule, el la manche de dessous est jaune.
Cette dame est accompagnée d'une duègne entièrement habillée de noir, à l'exception d'un petit voile blanc sur la poitrine.
Le gondolier porte un bonnet rouge dont le bord retroussé est blanc. Le pourpoint est de velours bleu; les manches laissent voir la chemise aux épaules et aux coudes. La ceinture, la bourse et le poignard sont garnitures d'argent. Les chausses sont jaunes.
Source: Costumes historiques des XIIIe, XIVe et XVe siècles, extraits des monuments les plus authentiques de peinture et de sculpture, dessinés et gravés par Paul Mercuri, avec un texte historique et descriptif par Camille Bonnard. Paris Année: 1845. Editeur: Goupil et Vibert. 1ère édition francaise Paris: Treuttel et Würtz, 1829-1830.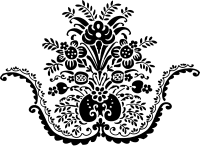 Related