Adornments. Fashion under Louis XVI., 1774 to 1789
L'histoire du costume féminin français. Les modes sous Louis XVI et Marie Antoinette 1774−1789. La Mode du Rococo. Parures – Planche 12.
The history of French women's costume. Fashion under Louis XVI and Marie Antoinette 1774-1789. The Rococo Fashion. Adornments
Parures.
1. Collier de perles fines appartenant à Marie Thérèse de Savoie.
2. Bracelet de Marie-Antoinette en perles fines fermé par une plaque d'or dans laquelle est serti un rubis.
3. Collier de grains d'or disposés en sautoir.
4. Petit manchon d'eider avec nœud de ruban violet, mitaines aux mains.
5. Haute canne, manche en agate, gland de soie.
6. Petit manchon en drap rouge rappelant la veste, brandebourgs noirs et boutons.
7. Jeune dame prête à monter en cabriolet, veste de pékin, puce, à trois collets, robe verte. Chaussure rose, nœuds verts.
8-9-10-11. Eventails monture ivoire, peints ou en tissu pailleté.
12. Collier de pierre de Lyon, monté sur fil de soie bleue formant gland.
13. Ombrelle en taffetas rose, bordée d'une frange noire.
14. Collier en pierres taillées à deux rangs d'où tombent en pendentifs des émeraudes espacées par deux pierres plus petites.
15. Ruban de velours noir avec médaillon en or.
16 et 17. Canne en bois de rose, pommeau ivoire, lanières de cuir ou rubans, genre dragonnes avec ou sans glands.
18. Nœud de ruban au cou, supportant en pendentif une fleur d'or et une croix en or.
19. Sac en velours rouge, bordé d'un galon or brodé de la couronne et du chiffre royal (à Marie-Antoinette).
20-21-22. Manches d'ombrelles en ivoire et écaille avec glands et dragonnes.
23. Ombrelle de faille bleue avec bouillonné de ruban au bord.
24. Ombrelle en taffetas vert brodé d'un ruban à picot argent.
Source: L'Histoire du Costume Féminin Français. Paul Louis Victor de Giafferri.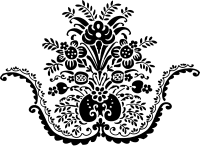 Continuing
---
Support and Seduction: The History of Corsets and Bras (Abradale Books) by Beatrice Fontanel.
Thoughout the ages, women's breasts have been subjected to the endless whims of fashion. From the ancient Greeks to Mae West and Madonna, this light-hearted book charts the changing shapes of female beauty. The elegant and amusing images - including fashion drawings, paintings, photographs, and film stills - illustrate the often surprising history of the garments women have worn for support - and seduction.
---