Corsages. Louis XV 1715-1774.
The history of French women's costume. Fashion under Louis XV 1715-1774. The Rococo Fashion. Corsages.
L'histoire du costume féminin français. Les modes sous Louis XV 1715-1774. La Mode du Rococo. Corsages – Planche 6.
Corsage de jeune fille, rose pâle, avec guirlande de roses en bandoulière,
Costume de paysanne galante, en taffetas bleu, volant de dentelle aux manches, lacé devant sur un fond blanc, basques découpées et brodées. Rubans bouillonnés.
Corsage de velours rose vif, dentelle bouillonnée au décolleté, échelle de ruban devant, volants de velours froncé aux manches, et dentelle retombant.
Corsage de satin ivoire, bordé d'un galon bleu s'ouvrant sur un devant de lingerie de linon brodé et plissé.
Mme de Pompadour, en robe d'apparat, d'après un pastel de Latour.
Corsage de campagne en tissu à fleurettes imprimées, ruban de velours laçant le devant rose au décolleté, manches droites se terminant par un volant de linon.
Corsage de la duchesse de Palari, en taffetas broché, resserré à la manche par un bracelet de pierreries, au décolleté dentelle plissée de Chantilly.
Corsage de soie rose saumon, très décolleté, avec ruché de dentelle tout autour. Volant à la manche et agrafe de rubis.
Corsage (1755), en taffetas jaune, devant satin blanc, fleurettes bleues brodées. Volant à la manche et ruché de dentelle au cou.
Source: L'Histoire du Costume Féminin Français. Paul Louis Victor de Giafferri.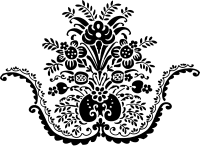 ---
Support and Seduction: The History of Corsets and Bras (Abradale Books) by Beatrice Fontanel.
Thoughout the ages, women's breasts have been subjected to the endless whims of fashion. From the ancient Greeks to Mae West and Madonna, this light-hearted book charts the changing shapes of female beauty. The elegant and amusing images - including fashion drawings, paintings, photographs, and film stills - illustrate the often surprising history of the garments women have worn for support - and seduction.
---