Premet Model of navy Needle Cord. Paris fashion 1913.
Model No. 113.
One-piece dress of navy Needle Cord Cloth embroidered in black soutache and black buttons. Plain cloth belt and gold buckle and eyelets. Collar and sash of Roman colored silk. Beaded fringe to match sash and yoke of pleated net.
Published by Haas brothers, for the spring season, 1913.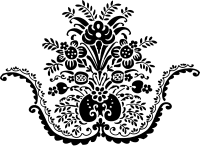 ---
Support and Seduction: The History of Corsets and Bras (Abradale Books) by Beatrice Fontanel.
Thoughout the ages, women's breasts have been subjected to the endless whims of fashion. From the ancient Greeks to Mae West and Madonna, this light-hearted book charts the changing shapes of female beauty. The elegant and amusing images - including fashion drawings, paintings, photographs, and film stills - illustrate the often surprising history of the garments women have worn for support - and seduction.
---