Bodices. Fashion under Louis XVI., 1774 to 1789
(Late baroque, rococo fashion era)
Corsages – Planche 6.
L'histoire du costume féminin français. Les modes sous Louis XVI et Marie Antoinette 1774−1789. La Mode du Rococo.
Corsages. Les modes sous Louis XVI et Marie Antoinette 1774−1789. La mode du rococo.
1. Corsage en taffetas rose, entouré d'un ruché de ruban rose, col fichu, nœud rose au corsage et aux manches, garni d'un jabot de dentelle.
2. Corsage (1775), formant gilet, en velours rayé bleu et blanc, cordelière de soie bleue lingerie formant col Médicis. Nœud bleu, manches unies longues, avec plusieurs rangs de Valenciennes, taillées entonnoir.
3. Polonaise de taffetas «cheveu de la reine» garniture en bordure d'indienne.
4. Corsage gilet serrant le buste, basques droites, poches à la basque, bouton noir, sur fond de gilet havane, veste recouvrant le gilet en drap bleu, col droit. Jabot de dentelle.
5. Corsage chinois, tiré du ballet des Indes Galantes, inspirateur des modes chinoises d'alors.
6. Caraco en taffetas violet, pli dans le dos, entourant le gilet, le tour du cou et le col en tout autour de la basque, haut ruché de taffetas froncé blanc aux manches, ruché de taffetas blanc plus petit.
7. Veste du matin en linon rose bordé d'un froncé de ruban blanc, nœud blanc retenant le fichu de lingerie.
8. Corsage très décolleté descendant très en pointe sur la jupe; ruché de ruban, tout autour du décolleté et faisant col; ruban formant également fermeture sur le devant; piquet de roses pompon à l'épaule, large sabot de dentelle aux manches.
9. Veste de drap gris fumée attaché au col, s'ouvrant sur un gilet bleu vif, boutons noirs. Manche étroite, petit poignet, chapeau de feutre gris, plumes, aile d'oiseau bleu vif.
10. Femme en pierrot, corsage ajusté, violine, peti te basque derrière, fichu menteur en linon blanc.
11. Corsage du matin en lingerie, volant froncé au bas des manches garnies d'un froncé et d'un nœud de ruban.
Source: L'Histoire du Costume Féminin Français. Paul Louis Victor de Giafferri.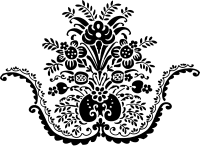 ---
Support and Seduction: The History of Corsets and Bras (Abradale Books) by Beatrice Fontanel.
Thoughout the ages, women's breasts have been subjected to the endless whims of fashion. From the ancient Greeks to Mae West and Madonna, this light-hearted book charts the changing shapes of female beauty. The elegant and amusing images - including fashion drawings, paintings, photographs, and film stills - illustrate the often surprising history of the garments women have worn for support - and seduction.
---