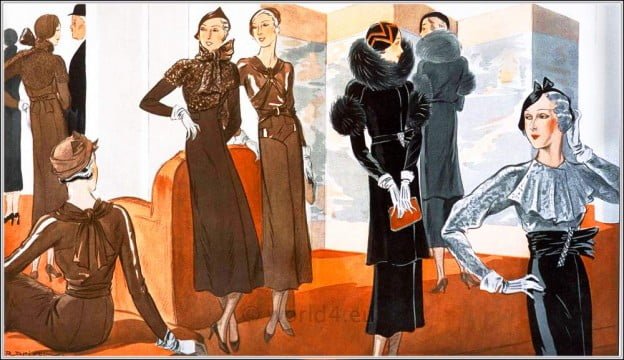 Feuillets de l'élégance féminine. January 1933. Costumes by couturier MARTIAL et ARMAND and LUCILE PARAY.
Créations by MAGGY ROUFF and JENNY. 1930s art deco fashion. French haute couture. Création MAGGY ROUFF. WISKY (ensemble). Robe en lainage tissé main. Ceinture cuir. Corsage croisé, découpe sur le… Read More
Robe en lainage fantaisie à grand écossais trois tons. Col et ceinture de velours. Effet de pèlerine au corsage formant deux pointes au devant et une derrière.
Création de Couturier Lucile Paray. 1930s French art deco sports costume. Feuillets de l'élégance féminine. January 1933. Costume by couturier Lucile Paray. Related Posts:Two creations by Martial & Armand, Lucile… Read More