Fabrics. Fashion under Louis XVI., 1774 to 1789
(Late baroque, rococo fashion era)

L'histoire du costume féminin français. Les modes sous Louis XVI et Marie Antoinette 1774−1789. La Mode du Rococo. Etoffes – Planche 10.
Etoffes.
1. Châle fond blanc, dessins rouges, bleus, jaunes et verts.
2. Châle broderie au point petit et application sur tulle. Fleurs roses et vertes, tons dégradés, nœud rouge, dégradé rose.
3. Robe rouge et bleue à rayures, ruban en ceinture fond jaune, fleurs bleues et rouges.
4. Satin lamé et broché fond jaune vif, oiseaux verts et bleus, fleurs rouges.
5. Fragment de tapisserie exécutée au Temple par Marie-Antoinette, fond marron, feuilles vertes dégradées, fleurs roses et jaunes dégradées.
6. Robe de taffetas, à paniers, plate devant et derrière, très décolletée, avec chérusque de blonde, taffetas rose pâle, le tablier devant et bas de jupe en taffetas à guirlandes de fleurs roses, bleues et vertes.
7. Motifs de broderies avec chiffre pour écran ou châle.
8. Caraco de taffetas puce, avec un large fichu en linon blanc; gilet blanc.
9. 10. 11. Motifs de fleurs sur taffetas pour robe, vert et rose, jaune et bleu, bleu et rose.
13. Satin brodé fleurs violettes et noires, feuilles vertes, fond mauve pâle pour volant de robe en broderie sur satin fond ivoire, bord jaune et bleu, guirlande de fleurs orange.
13. Fillette avec corsage guimpe rayée rouge et blanc et bleu, ruban tricolore entourant la charlotte de linon blanc, guimpe de linon blanc froncée au cou.
Read more: L'Histoire du Costume Féminin Français. Paul Louis Victor de Giafferri.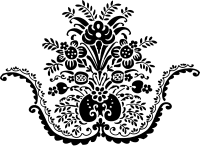 Continuing
---
Support and Seduction: The History of Corsets and Bras (Abradale Books) by Beatrice Fontanel.
Thoughout the ages, women's breasts have been subjected to the endless whims of fashion. From the ancient Greeks to Mae West and Madonna, this light-hearted book charts the changing shapes of female beauty. The elegant and amusing images - including fashion drawings, paintings, photographs, and film stills - illustrate the often surprising history of the garments women have worn for support - and seduction.
---