PORTRAIT
Of a Lady playing the Guitar.
BY DROUAIS, 1727-1775.
Madame Schneider's Collection.
She is sitting in a park, in a theatrical costume with a shepherdess's hat; it is probably the portrait of a singer in her part in some opera.
Not beautiful, but with a pleasant, frank, and open expression, this woman had, we can believe, much wit and charm. Very skilfully posed in the grove-like scene, this portrait is brilliantly rendered with the spirited crispness of the very spontaneous artist that Drouais usually showed himself. He is always to be known by his taste in arranging his sitter, and the pleasing mastery he displayed even in selecting an attitude.
Francois-Hubert Drouais (1727 – 1775) was a French Rococo painter who specialised in portraits and was a rival of the portrait painter Jean-Marc Nattier. Among his works are the portraits he painted of the two Maîtresse-en-titre of Louis XV of France, the Countess du Barry and the Marquise de Pompadour. The portrait of Madame Pompadour was completed after her death and is now on display in the National Gallery in London.
Unlike other painters of his time, he did not apply a psychological gaze to his models, but emphasised a detailed, illusionistic rendering of fabrics and lace. His portraiture style was considered flattering. He often used a rural setting in which his models could behave more informally.
Source: Treasures and masterpieces of art. Shown at the 5th World's Fair in Paris (Exposition universelle de 1900), by Gaston Migeon. Paris: Goupil & cie, 1901.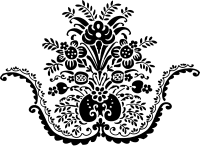 Continuing
---
Support and Seduction: The History of Corsets and Bras (Abradale Books) by Beatrice Fontanel.
Thoughout the ages, women's breasts have been subjected to the endless whims of fashion. From the ancient Greeks to Mae West and Madonna, this light-hearted book charts the changing shapes of female beauty. The elegant and amusing images - including fashion drawings, paintings, photographs, and film stills - illustrate the often surprising history of the garments women have worn for support - and seduction.
---