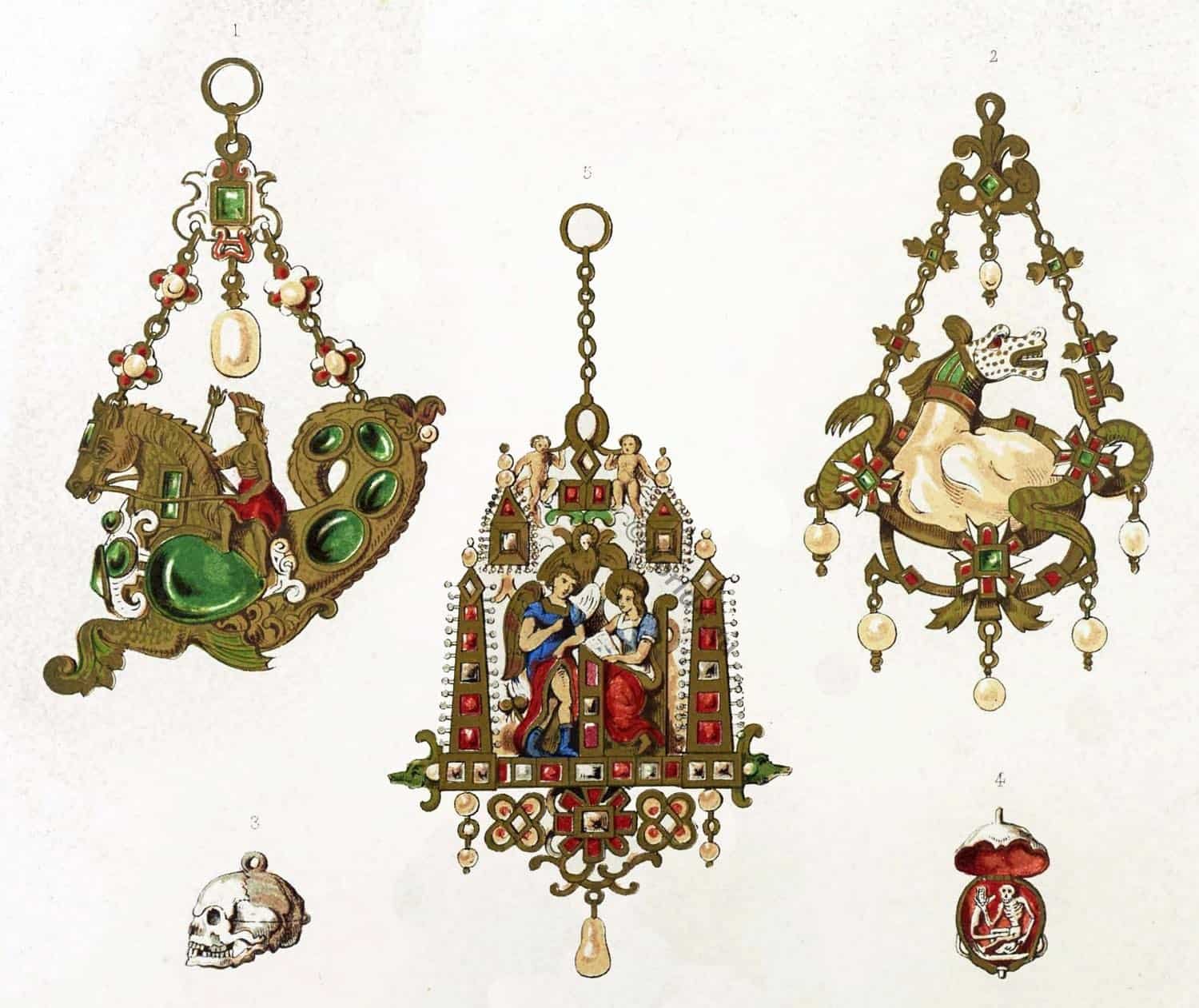 JEWELS OF THE SIXTEENTH CENTURY.
Renaissance epoque.
Fig. 1. JEWEL, pendant in the manner of Erasmus Hornick (1524/27–1583), Spain, late 16th century; enameled on gold, and set with large emeralds. It represents a Hippocamp mounted by a female figure, diademed, and holding a trident. The chain used for its suspension is also enameled and enriched with pearls.
Bequeathed by: Baron Ferdinand Anselm Rothschild, ex-collection: Bonnefons de Lavialle, ex-collection: Louis Fidel Debruge-Duménil Collection (Cat. No. 1028). WB.156. British Museum.
Fig. 2. A SEA-HORSE suspended from a chain enriched with rubies and emeralds. The body of the horse is formed by a large pearl; the head is of white enamel, on gold. Five pearls are suspended from this jewel, which is also decorated with surface enameling.
Fig. 3. "DEATH'S HEAD", in white enamel, on gold. The upper part of the skull opens by a spring placed between the eyes, as exhibited in Fig. 4.
Fig. 4. The "Death's Head" opened, and discovering a minute skeleton formed of gold, and covered with white enamel. This figure is seated, and lifts an hour-glass; the scythe being on the ground. Memorials of this kind were worn by widows.
Fig. 5. PENDANT JEWEL, representing the Annunciation. It is enameled on gold, and thickly studded with diamonds, pearls, and rubies. The reverse is fancifully scrolled and enameled.
From the Debruge-Duménil Collection (Cat. No. 99 1).
All the Jewels on this plate are represented of the actual size of the originals.
Source: Miscellanea graphica: representations of ancient, medieval, and renaissance remains in the possession of Lord Londesborough. Contributor: Frederick William Fairholt, 1857.
Related