The history of French women's costume. Fashion under Louis XVI and Marie Antoinette 1774-1789. The Rococo fashion. Hats – Plate 5.
L'histoire du costume féminin français. Les modes sous Louis XVI et Marie Antoinette 1774−1789. La Mode du Rococo. Chapeaux – Planche 5.
Chapeaux
1. Chapeau de bourgeoise formant capeline en paille bleue, calotte basse, ruban faille rose.
2. Chapeau à la Tarare; passe relevée en ondulant, calotte très haute et étroite, rayée rose et noir. Guirlande de roses du haut en bas de la calotte.
3. Chapeau de feutre (1778) gris perle, relevé derrière, bordé d'un galon rayé gris et noir, autour de la calotte ruban rose et gris, plume d autruche rose et ruban rose retombant.
4. Chapeau bonnet en lingerie empesée, et tuyauté. Haute calotte froncée, nœud vert et plumes roses en haut de la calotte.
5. Chapeau de paille posé sur une haute coiffure paille or. Un ruban foncé sans calotte, passe très plate posée sur le côté, grosses roses et feuillages.
6. Chapeau fond cône tronqué, passe très avancée en paille vert amande. Ruban blanc retombant dans le cou.
7. Chapeau de riche bourgeoise, en paille orange, haute calotte étroite, passe très relevée derrière et garnie de plumes orange et deux aigrettes blanches.
8. Chapeau de feutre noir. Haute calotte droite, bords très hauts sur les côtés, rubans gris fumée.
9. Chapeau confectionné, tout en ruban cousu jaune paille, très relevé sur un côté, ruban rose vif autour de la calotte large et plate, roses et feuillages sur le côté.
10. Chapeau de lingerie, passe plissée, calotte froncée, le haut de la calotte est garni d'un ruban froncé rose et de plumes d'autruche roses, le bas de la calotte est garni de petites roses rouges.
11. Chapeau de velours rouge ru bis, relevé tout autour, la calotte est en taffetas blanc garni d'un ruban formant nœud papillon, devant agrémenté de quelques brins d'aigrette.
12. Chapeau de feutre bleu roi, relevé devant, très haut derrière, toute la calotte est recouverte de plumes blanches et bleues.
Source: Les modes sous Louis XVI et Marie Antoinette. L'Histoire du Costume Féminin Français. Paul Louis Victor de Giafferri.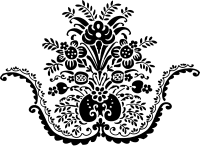 ---
Support and Seduction: The History of Corsets and Bras (Abradale Books) by Beatrice Fontanel.
Thoughout the ages, women's breasts have been subjected to the endless whims of fashion. From the ancient Greeks to Mae West and Madonna, this light-hearted book charts the changing shapes of female beauty. The elegant and amusing images - including fashion drawings, paintings, photographs, and film stills - illustrate the often surprising history of the garments women have worn for support - and seduction.
---