The American Duchess Guide to 18th Century Dressmaking: How to Hand Sew Georgian Gowns and Wear Them With Style by Lauren Stowell (Author), Abby Cox (Author).
Lauren Stowell and Abby Cox of American Duchess have endeavored to make the impossible possible by bringing historically accurate dressmaking techniques into your sewing room. Learn how to make four of the most iconic 18th century silhouettes―the English Gown, Sacque Gown, Italian Gown and Round Gown―using the same hand sewing techniques done by historic dressmakers.
Persian costume. English Black Romantic at the beginning of the Victorian age.
THE Persians are said to have imitated the Egyptians; but, except perhaps in the veil or head-dress of this figure, in which some slight analogy may be traced with that of the daughter observable. The costume before us, however, may be relied upon as correct, since it was taken from an original portrait by a Persian artist.
English Black Romantic. Idealized, kitschy representation of women at the beginning of the Victorian age in the spirit of Lord Byron. The coronation of Victoria took place at Westminster Abbey on June 28, 1838.

Black Romantik
Source: Beauty's costume; a series of female figures in the dresses of all times & nations by Leitch Ritchie. London, Longman's 1838.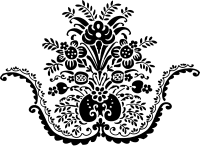 ---
Support and Seduction: The History of Corsets and Bras (Abradale Books) by Beatrice Fontanel.
Thoughout the ages, women's breasts have been subjected to the endless whims of fashion. From the ancient Greeks to Mae West and Madonna, this light-hearted book charts the changing shapes of female beauty. The elegant and amusing images - including fashion drawings, paintings, photographs, and film stills - illustrate the often surprising history of the garments women have worn for support - and seduction.
---