The Chlamys, the travel and war coat, the Petasos, the broad-brimmed Thessalian hat, the coat Himation.
GREECE. VARIOUS GARMENTS. HELMETS.
No. 1 and 6.
Greek youths in the Chlamys.
The Chlamys, the travel and war coat, was an elongated piece of cloth thrown over the left shoulder and held together by a metal fibula over the right shoulder. It came from Macedonia or Thessaly to Attica. In the four corners, as in other ancient garments, lead pieces were sewn in to promote a beautiful drape and to prevent the cloak from shifting. As Figure 6 shows, the chlamys could also be worn in such a way that the fibula sat over the chest and the coat fell evenly over the shoulders. When the Athenian youths were on horseback, they put their left arm under the coat, as you can see on the Parthenon frieze.
Both figures wear the Petasos, the broad-brimmed Thessalian hat, which was usually only put on during the journey, but otherwise hung down on the back by a strap. No. 1 wears high boots (endromides) wrapped with ribbons, which were made of leather or felt, No. 2 only calf stockings without boots, as they are still worn today by mountain dwellers.
No. 2.
Woman in chiton reaching down to her feet (ancient Greek χιτών), with a Himation (coat) over it.
No. 3.
Man in the chiton with the Himation.
No. 4.
Woman in double girded chiton
No. 5
Woman in chiton and with flowered overdress.
No. 7.
Man in Chiton and Himation.
No. 8, 10, 12, 13, 16 and 18.
These numbers indicate (among the helmets depicted) the oldest and most corresponding to Homer's descriptions. No. 8 is copied from the Numismatic Collection of the National Library in Paris, No. 10 from the Vatican Museum.
No. 20.
So-called helmet of Menelaus, found in the villa of Hadrian in Tivoli. With movable visor. The tube on the side above the cheek served to pull the storm strap through.
No. 15.
Helmet from a trophy of Augustus in the Capitol.
No. 11 and 22.
Bronze gladiator helmets from Pompeii with visor, forehead and neck protection. There are holes in the combs which were used to attach feather bushes.
No. 14, 17, 19 and 21.
Greek helmets of different shapes. In No. 17, the parts used to protect the cheek seem to have folded up.
(After Willemin, Costumes des peuples de l'antiquité.)
Source: History of the costume in chronological development by Auguste Racinet. Edited by Adolf Rosenberg. Berlin 1888.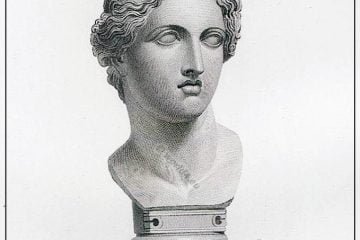 The distinguishing characteristic of the head of Apollo is the manner in which the hair is represented.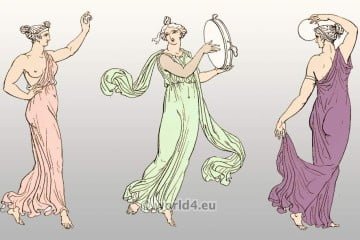 Grecian Females dancing. Costume of the ancients by Thomas Hope.
Different Ptolemaic and their Queens. Headdresses and crowns. Successors of Alexander the Great.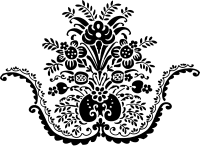 Related