Rococo lace and embroidery. Louis XV fashion history from 1715 to 1774.
The history of French women's costume. Fashions under Louis XV 1715-1774. Rococo fashions. Embroidery. Lace. – Plate 9.
L'histoire du costume féminin français. Les modes sous Louis XV 1715-1774. La Mode du Rococo. Broderies. Dentelles. – Planche 9.
Ruban à l'allure, feuillages verts, personnages habillés de rose représentant le cousin et la cousine.
Tissu fond moiré vert, rayures bleues et jaunes, broderie verte, lamé argent, orange et violette.
Galon lamé argent.
Galon lamé argent.
Galon lamé or.
Galon lamé or. A paru en 1720 et disparu en 1724; d'un mauvais usage.
Manchette de linon brodé, broderie anglaise.
Fond marron, broderie rose et verte, papillon bleu et rose.
Broderie sur fond satin blanc, broderie rouge dégradée à la rose, vert foncé et vert clair au feuillage, œillet jaune bordé brique.
Motif de manchette de linon brodé, bord festonné (1726).
Duchesse de Berry, corsage en tissu broché et brodé de fleurs et garni de dentelles et pierreries.
Taffetas brodé, fond jaune, fleurs roses et violet, feuillage vert foncé.
Taffetas bleu ciel, bradé et découpé avec bande de lamé argent au centre.
Galon de lamé argent.
Galon de lamé or et argent.
Galon de lamé argent.
Guirlande composée de chenille de sourcil de hanneton et de papillon, rouge et jaune. 18. Motif de manchette brodée, étoffe de mode en 1726.
Read more: L'Histoire du Costume Féminin Français. Paul Louis Victor de Giafferri.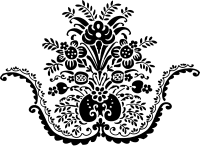 ---
Support and Seduction: The History of Corsets and Bras (Abradale Books) by Beatrice Fontanel.
Thoughout the ages, women's breasts have been subjected to the endless whims of fashion. From the ancient Greeks to Mae West and Madonna, this light-hearted book charts the changing shapes of female beauty. The elegant and amusing images - including fashion drawings, paintings, photographs, and film stills - illustrate the often surprising history of the garments women have worn for support - and seduction.
---