Two-tone fabric. France 17th century.
Baroque period. Louis-quatorze.
The richest and most gorgeous fabric are not always to have the preference as amply proves the above specimen which illustates the effect one may arrive at with two single tints carefully disposed.
Source: XVII Century. French factory. Collection of Mr. Mallet Boullay. Two tone fabric. XVII Siècle. Fabrique Française. Collection de M. Maillet du Boullay. Tissu a deux tons.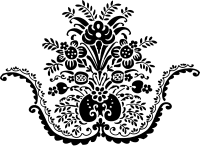 Related