Asia costumes by Auguste Wahlen.
Manners, customs and costumes of all peoples of the world, based on authentic documents and the most recent trips by Auguste Wahlen, Knight of several Orders.
Engrapher: François Pannemaker (1822-1900), Theophile Emanuel Duverger (1821-1894). Published: Brussels, 1843.
Original: Mœurs, usages et costumes de tous les peuples du monde, d'après des documents and authentiques et les voyages des plus récents; Publié par Auguste Wahlen. Chevalier de Plusieurs Orders. Asie. Bruxelles, a la Librairie Historique-Artistique, Rue de Schaerbeek, 12. 1844.
Second Chapter: Asia.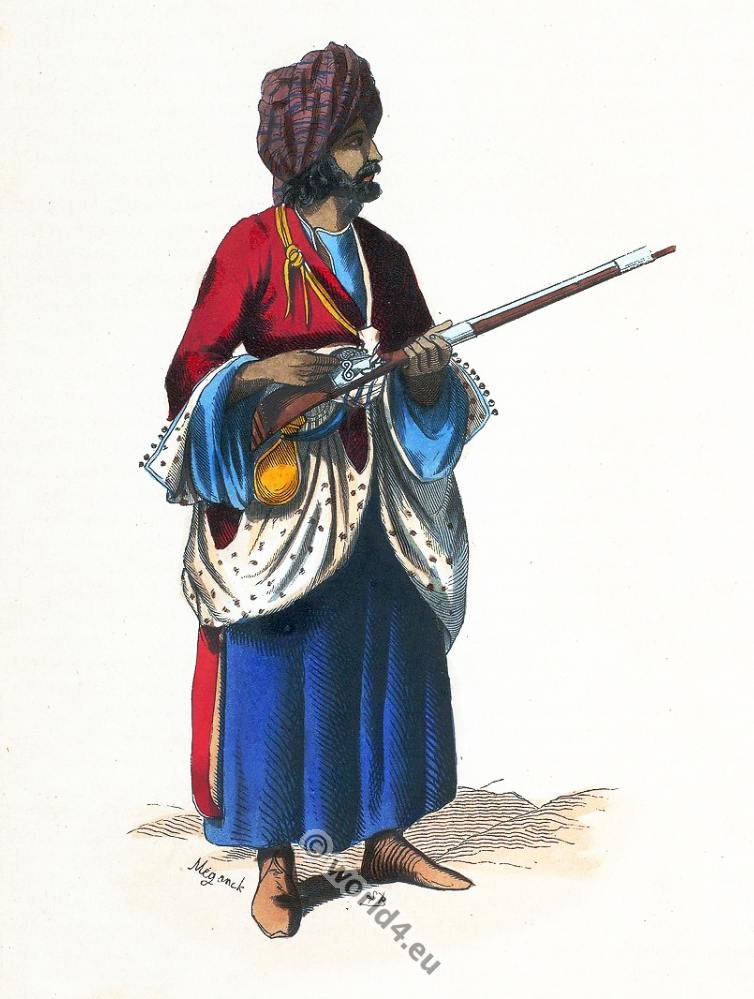 List of costume plates:
Afghan soldier from Herat. – Afghan d´Herat.
Afghan soldier. – Soldat Afghan.
Arabian Noble. – Noble Arab.
Arabian girl. – Jeune fille Arabe.
Inhabitant of Mount Lebanon. Habitant du mont Liban – Habitant du mont Liban.
Arab merchant. – Marchant Arabe.
Armenian girl. – Jeune fille Arménienne.
Armenian merchant. – Marchand Armenian.
Noble Burmese woman. – Noble Birmane.
Noble Burmese man. – Noble Birmane.
Carian. – Karian.
Soldier Vietnam (Cohinchinois). – Soldat Cohinchinois.
Soldiers of Vietnam (Cochinchinois). – Naturel et Soldat Cochinchinois.
Girl from Vietnam. (Cochinchinois). – Jeune fille Cochinchinois.
The Emperor of China. – L Empereur de la Chine.
Chinese junk. – Jonque chinoise.
Chinese luxury junk. – Jonque chinoise.
Mandarin Chinese. – Mandarin chinois.
Chinese merchant. – Marchant Chinois. Voiture à voilà.
Chinese soldier. – Soldat Chinois.
Chinese monks. – Bonzes chinois.
Chinese lady and her attendant. – Dame Chinoise et sa suivante.
Chinese guys. – Types chinois.
Circassian. – Circassien.
Circassian. Prince of the great Cabarde. – Circassien. Prince de la grande Cabarde.
Caucasian Circassien soldier. – Circassien.
Prince Imerethien. – Prince Imerethien.
Georgian from Megrelia. – Mingrelien.
Georgian woman. – Georgienne.
Hindustan. Ordinary man. – Indoustan. Homme du peuple.
Young Hindu dancer. – Jeune danseur Indou.
Devadasi, Jogini. Hindustan. – Bayadere. Indoustan.
General of the guards of the Emperor. Delphi. – Général des gardes de l'Empereur. Delphi.
Groom in Calcutta. – Groom a Calcuta.
Girl of Himalaya Mountains. – Jeune Fille des Monts Himalaya.
Hindu playing the Pennak (Tanpura or tambura). – Indou jouant du Pennak.
Young Hindu girl from the upper class. – Jeune fille indoue de la haute classe.
The Rajah. – Rajah.
Sub-officer, Sepoy officer of Cipahys. Hindustan. – Sous-officer de Cipahys. Indoustan.
Hindu soldier. – Soldat Hindou.
Japanese lady. – Dame Japonaise.
Japanese Parasol standard bearer. – Porte étendard et Parasol Japonais.
Japanese rider. – Cavalier Japonais.
Japanese General. – General Japonais.
Japanese nobleman and his valet. – Japonais de condition et son valet.
Japanese soldier. – Soldat Japonais.
Indigenous Ainu of Japan. – Ainos Japonais.
Japanese Fishermen's family. – Famille de Pêcheurs Japonais.
Japanese soldier. – Soldat Japonais.
Japanese infantry. Musician. – Infanterie Japonais. Musicien.
Japanese in Ceremonial garb. – Japonais en costume de cérémonie.
Japanese soldier. – Soldat Japonais.
Russia Kalmyk. – Kalmouk.
Korean. – Coréen.
Kyrgyz. – Kirghiz.
Druse woman. Lebanon. – Femme Druse. Liban.
Resident of Lile Loo-choo. Ryukyuan Asia. – Habitant de l`Île Lou-Tchou. Asie.
Resident of Lahore. – Habitant de Lahore.
Persian dervish. – Derviche persan.
Persian priest or mullah. – Prêtre Persan ou Mollah.
Persia. Man of the People. – Perse. Homme du Peuple.
Persian Gunner. – Canonnier Persan.
Persian Noble. – Noble Persan. Asia.
The Shah of Persia. – Le Schah de Perse.
Persian woman. – Femme Persane.
Persian lady. – Dame Persane.
Russia Eleuthe. – Eleuthe. Asie.
Katschines Tartar Family. – Famille Tartare Katschentses.
Siamese Thailand. – Siamois.
Russia Siberia Chukchi family. – Famille Tschiuktsches.
Kamchatka Kamchadal. Asia. – Kamtchadale. Asie.
Russia Kamchatka. Types of Kamchadales. – Types des Kamtchadales.
Russia Kureck woman. – Kureck.
Russia Samoyeds. – Samoyèdes.
Russia Yakut. – Yakoute.
Russia Yakut woman. – Femme Yakoute.
Tartar woman from Tomsk. Asia. – Femme Tartare de Tomsk. Asie.
Syria Dura Europus warrior. – Douran.
Formosan. Taiwanese aborigines. – Formosan.
Tibetan. – Thibetain.
Imam from Turkey. – Iman. Turquie.
Kurd. – Kurde. Asie.
Turkish Mardin. – Turc de Mardin. Asie.
Bukhara Usbek. – Bokhara. Usbeks. Asie.
Related