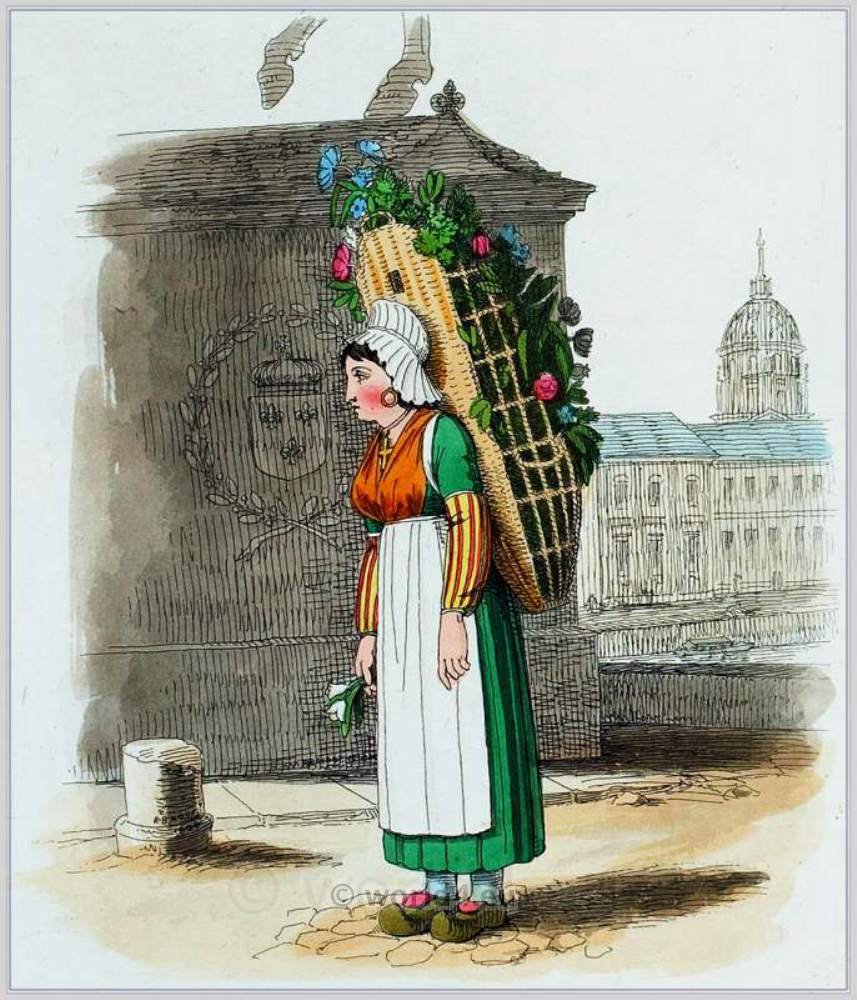 Flower girl of Paris.
THIS way of carrying loads is common in France. A wooden frame is secured to the shoulders, and rests upon the whole surface of the back to the hips. It is at least less painful to the sight, than our method of the knot upon the head.
The French females, in defiance of their huge wooden shoes, (within which they often wear a smaller leather one) are extremely active, and are seen moving about in every direction with baskets on their backs, plying for hire as porters, or carrying about refreshments, flowers, and trifles.
The wooden shoes in a town like Paris, paved with sharp stones, must be a great saving to the poor people, who walk about from morning to night bent under their loads; they shelter their feet from being cut, and from the continual damp and dirt of the filthy streets of this capital, at the same time that they save their purses from the constant expense of new shoes.
Source: Sketches Illustrative of the Manners and Costumes of France, Switzerland and Italy. Illustrations by Richard Bridgens. Text by J.W. Polidori London. Baldwin, Cradock & Joy. 1821.
---
Support and Seduction: The History of Corsets and Bras (Abradale Books) by Beatrice Fontanel.
Thoughout the ages, women's breasts have been subjected to the endless whims of fashion. From the ancient Greeks to Mae West and Madonna, this light-hearted book charts the changing shapes of female beauty. The elegant and amusing images - including fashion drawings, paintings, photographs, and film stills - illustrate the often surprising history of the garments women have worn for support - and seduction.
---
Glam Italia! by Corinna Cooke
---
---