Tag:
Richard Bridgens
Sketches Illustrative of the Manners and Costumes of France, Switzerland, and Italy by Richard Bridgens. Text by John William Polidori. London. Published by Baldwin, and Joy, Paternoster Row; and Hatchard and Son, Piccadilly. 1821.
Auguste Racinet. The Costume History Hardcover – Illustrated, November 4, 2015
by Françoise Tétart-Vittu (Author)
Racinet's Costume History is an invaluable reference for students, designers, artists, illustrators, and historians; and a rich source of inspiration for anyone with an interest in clothing and style.
A female at her devotions. Costume near Florence. In Italy, the young and the old alike frequent the churches.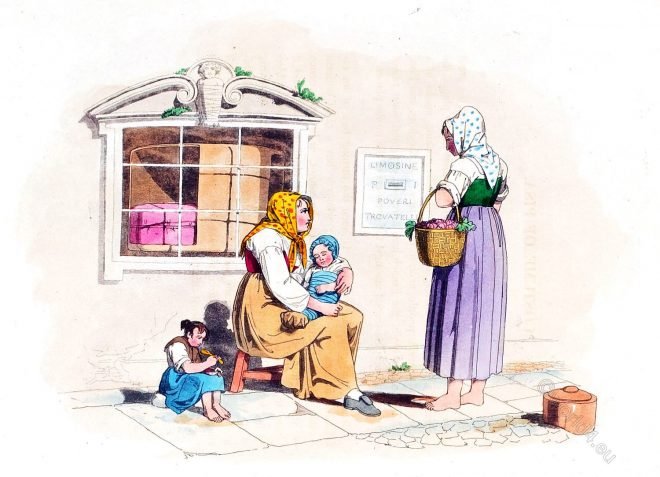 Locals of Pisa with English neckerchief and french handkerchief in front of an orphanage.
Literature
Couture: then and now Clothes define people. A person's clothing, whether it's a sari, kimono, or business suit, is an essential key to his or her culture, class, personality, or even religion. The Kyoto Costume Institute recognizes the importance of understanding clothing sociologically, historically, and artistically.
---