Coiffure Louis XV. Rococo hair fashion.
Louise-Diane of Orleans, known as "Mademoiselle de Chartres", Princess of Conti (1732).
Louise Élisabeth de Bourbon-Orléans (1716 – 1736) was Princess of Conti from 1732 by marriage with Louis François I de Bourbon.
Louise Diane was the seventh and thus the youngest daughter of the regent, Philippe II de Bourbon, duc d'Orléans, and his wife, born in the Palais Royal in Paris. Her mother Françoise Marie de Bourbon, a legitimate daughter of King Louis XIV of France and his mistress, Madame de Montespan, was always very indifferent to her, while the children were always pampered and coddled by her father.
Louise Diane married at the age of 15th on 22nd January 1732 in the chapel of the Palace of Versailles, her distant cousin Louis François I de Bourbon. The marriage had been arranged by Louis François's mother to end the existing rivalry between the house of Orléans and the House of Condé, both family branches of the Bourbons.
On 1st September 1734, Louise Diane gave birth to the joint son and sole heirs of Louis François II at the Hôtel de Conti in Paris. With his death in 1814, the house of Conti was extinguished. Louise Diane died at the age of 20 at the birth of her second (still-born) child at Issy Castle in the childbed. She was embalmed and buried in the church of Saint-André-des-Arts (Saint-André-des-Arcs). It stood at the place where the Place Saint-André-des-Arts is today in the 6th arrondissement in Paris.
Source: Albums de coiffures historiques par E. Nissy. Editeur: Albert Brunet, Paris c. 1860.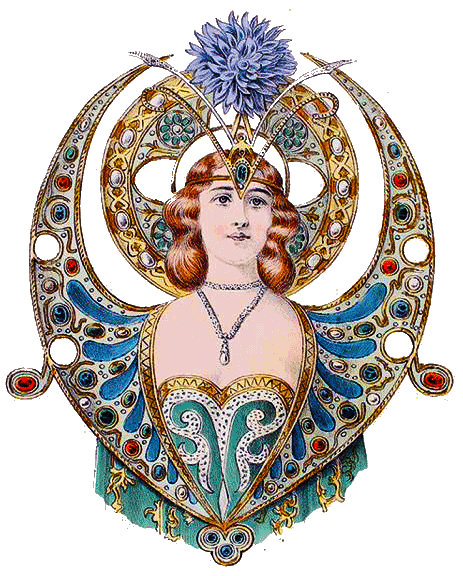 Continuing
---
Support and Seduction: The History of Corsets and Bras (Abradale Books) by Beatrice Fontanel.
Thoughout the ages, women's breasts have been subjected to the endless whims of fashion. From the ancient Greeks to Mae West and Madonna, this light-hearted book charts the changing shapes of female beauty. The elegant and amusing images - including fashion drawings, paintings, photographs, and film stills - illustrate the often surprising history of the garments women have worn for support - and seduction.
---