Norway and Denmark Costumes, 17th Century.
First third of the 17th Century. Top row left: Denmark, Nobleman with his wife. Right: Norway. Posh Norwegian man with woman. Woman from the countryside. Bottom row left: Denmark. Civil wife. Danish merchant. Wife of Stappethall. Right: Denmark. Costumes from Upford, Ditmarschen and Enderstedt. Baroque fashion period.
Source: On the history of costumes. Münchener Bilderbogen. Edited by Braun and Schneider 1860.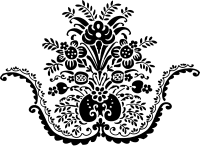 Related