CHAUSSURES. L'Histoire du costume féminin français. Les modes de la renaissance de l'an 1461 á l'an 1574.
Shoes. Fashions of the Renaissance from 1461 to 1574. French women's costume.
SHOES. CHAUSSURES.
Blue leather belt, inlaid with jewels (1520). Ceinture cuir bleu, incrustée de pierreries (1520).
White skin shoe for runners. Soulier blanc en peau pour patins.
Glove (1572), crispin wrist cut into four parts. Gant (1572), poignet crispin découpé en quatre parties.
Skin glove, high cuff, cuffed, cut out and lined with blue cloth. Gant de peau, poignet haut, à revers, découpé et doublé d'un drap bleu.
Duc de Bourbon" glove (1527), double folded ribbon cuff, and second larger crispin cuff, embroidered with gold thread. Gant «Duc de Bourbon» (1527), double poignet de ruban replié, et second poignet crispin plus grand, brodé de fils d'or.
Shoes under François 1er, red, black leather fillets, stamped in gold. Chaussure sous François 1er, rouges, filets noirs en cuir, estampé d'or.
Francis I shoes (1515), round toe, held in place by a tab on the instep, known as a "crayfish beard". Chaussures François 1er (1515), bout rond, retenu par une patte sur le cou-de-pied, dite: à barbe d'écrevisse.
Stockings under François 1er, sewn in two parts, of silk or estame. Bas sous François 1er, cousus en déux parties, de soie ou d'estame.
Glove of Elisabeth of Austria (1592), crenellated. Gant d'Elisabeth d'Autriche (1592), à créneaux.
Shoe, king's page, dark grey, light red heel, flat. Chaussure, page du roi, gris foncé, talon rouge clair, plat.
Lady's shoe, white, red ribbon, gold embroidery. Soulier de dame, blanc, ruban rouge, broderie or.
Anne de Joyeuse glove (1575), "Abbey leather". Gant Anne de Joyeuse (1575), «cuir d'Abbaye».
Master of accounts shoe, red heel, dark grey shoe, red bow. Chaussure maître des comptes, talon rouge soulier gris foncé, noeud rouge.
François II shoe. Laced on the side with a crayfish beard. Chaussure François II. Lacée sur le côté et à barbe d'écrevisse.
Anne, Duke of Joyeuse (1570). Velvet shoe. Anne, Duc de Joyeuse (1570). Soulier de velours.
Gentleman's shoe, dark grey, large purple cabbage. Chaussure gentilhomme, gris foncé, large chou violet.
Flat shoe (1547), dark grey, red border. Soulier plat (1547), gris foncé, bordure rouge.
Shoe mounted on wooden runner. Chaussure montée sur patin de bois.
Embroidered glove with cut-out and embroidered pines. Gant brodé à cris pins découpés et brodés.
Blue and white striped bottom, no sole. Bas rayé bleu et blanc, sans semelle.
Source: L'Histoire du Costume Féminin Français. Les Modes de la Renaissance de l'an 1461 à l'an 1574. Paul Louis Victor de Giafferri.  Les Modes de la Renaissance de l'an 1461 à l'an 1574.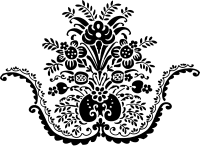 Related