PLATE X.
THE RIZZIO GUITAR.
THIS beautiful Guitar of tortoiseshell, combined with ivory, mother-of-pearl, and ebony (the property of Mr. George Donaldson, London), has ten pegs representing fleur-de-lys, and the ornament round the rose is formed with the same emblematic flower. To this, no doubt, it owes its romantic reputation of having belonged to David Rizzio.
The apparent age of the Guitar would agree with a supposed gift of it from Mary Stuart to Rizzio, and the fleur-de-lys might connect it with the French or Scotch Royal Families; but this slender suggestion of the fleur-de-lys, to which the guitar owes its special interest, unsupported by other evidence, is scarcely sufficient to uphold the fascinating attribution. Mr. Donaldson, however, informs me that this instrument was bought in Scotland, nearly forty years ago, from an old family that had possessed it for generations with this tradition of its former ownership.
This Guitar had ten strings, forming five notes, in pairs of unisons, instead of six single strings, as in the modern guitar, giving six notes. It is the lowest note E that is here wanting. The instrument is 3 feet 1 inch in extreme length; the body being 18¾ inches in length, and 10 inches across. The ribs are 3¾ inches deep.
This Spanish guitar may have first come to England in the reign of Henry VIII., as there is occasional mention, at that time, of the Spanish viol, a bowed instrument which may have been accompanied by the true Spanish guitar. There is no doubt, however, about the Spanish guitar having been here in the reign of Elizabeth, and it might have been brought by attendants of Philip II. when he married Mary Tudor. In the latter half of the sixteenth century it was already known, valued, and highly decorated in Venice; and it was also known in France, so that, as an instrument, it would notbe strange to Mary Stuart, or Rizzio either. The lute, however, was the most in vogue at that time, excepting perhaps in Spain. The character of the design of this so-called Rizzio guitar is undoubtedly Moorish.
Source: Musical instruments, historic, rare and unique; by Alfred James Hipkins and William ill Gibb. London: A. and C. Black, ltd. 1921.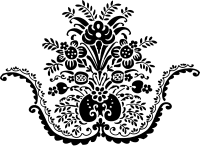 Related: