Art nouveau peacock painting.
The Two Poets of Canton. Overmantel panel by George Sheringham 1884–1937 (British painter and theatre designer).
The little Princess and the Peacock. By Jessie Marion King 1875-1949 (Scottish illustrator).
The White Peacock 1921. Wood engraving by Hans Frank 1884-1948 (M

ember of the Vienna Secession)

.
The peacock. From an original engraving in colours by Allen W. Seaby 1867-1953 (Ornithological painter).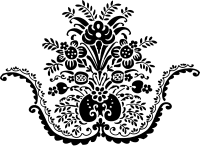 Related
---
Support and Seduction: The History of Corsets and Bras (Abradale Books) by Beatrice Fontanel.
Thoughout the ages, women's breasts have been subjected to the endless whims of fashion. From the ancient Greeks to Mae West and Madonna, this light-hearted book charts the changing shapes of female beauty. The elegant and amusing images - including fashion drawings, paintings, photographs, and film stills - illustrate the often surprising history of the garments women have worn for support - and seduction.
---