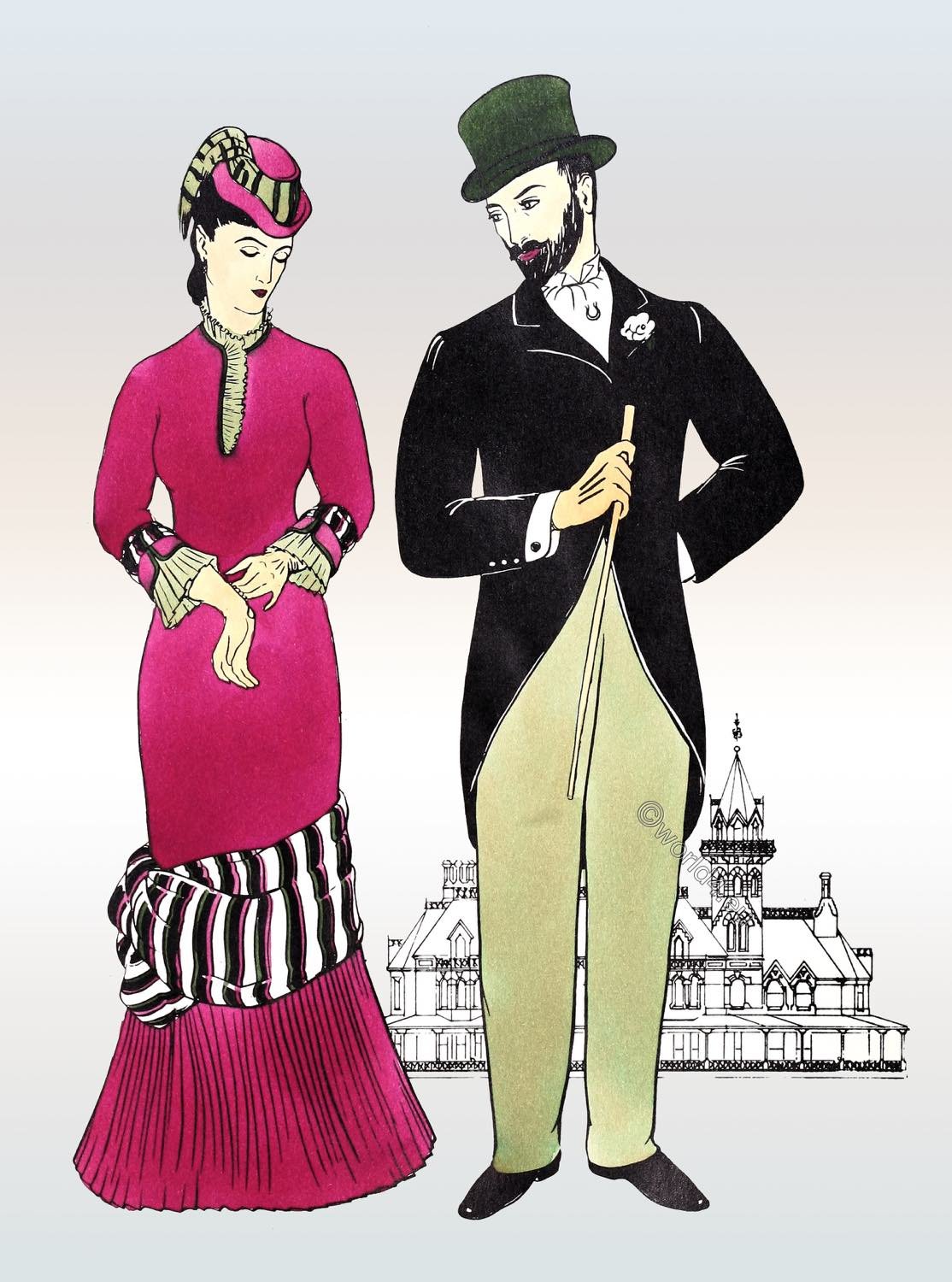 Late Victorian. 1865-1890.
1880's victorian fashion.
Plate NO. 106.
This bearded gentleman is dressed in formal afternoon attire, wearing a cut- away coat, horseshoe stickpin, and boutonniere. By the 1880's men's clothes had become so standardized that they remained the same for fifty years.
His hat is a light cloth-covered top hat similar to the one carried by the man in Plate 103. His hair is worn short—a style which has continued to the present day. The collar is a "wing," similar to the one in Plate 103. He is wearing an Ascot tie. It winds around the neck and is then folded over much like the cravats seen during the late 17th and 18th centuries. The scarf pin in addition to being decorative holds the fullness of the tie in place.
The cutaway is a development of the one seen in Plate 85. Its lines are essentially the same. The high Directoire collar has been replaced by a lower one. Notice how high the coat buttons, hiding the waistcoat. Notice, too, that the padded shoulders and tight waist have yielded to the loose, box-like fit with which we are familiar today. The stiff cuffs showing at the wrist and fastened with cuff links could either be attached to the shirt or be detachable.
The princess dress, becoming prominent in 1878, replaced the distended skirt of the previous period. This lady is dressed in the height of style, with her gown fitting snugly from the drooped shoulder to mid-thigh. The high round neckline had become very popular for street wear and was quite often edged with a small ruffle, as is the case here. The unbolted waistline being popular, milady's figure was urged into correct lines by proper corseting.
The sleeves, still the slim mannish models that end below the elbow, are decorated with a frill and a band of contrasting material that is employed on the skirt below mid-thigh. This extends below the knees, where it meets a much- pleated underskirt attached to the body of the garment.
The "waterfall" hairstyle fashion was replaced by the center-part from which the hair was brushed back, showing the ears and ending in a largo chignon on the nape of the neck. Her hat, worn rather forward on her head, is of felt with a rather high crown and a small rolled brim. The contrasting trim is in the form of a sash, the ends of which are allowed to fall carelessly over one side.
History of Costume
---
From the ancient Greeks to Mae West and Madonna, this light-hearted book charts the changing shapes of female beauty. The elegant and amusing images - including fashion drawings, paintings, photographs, and film stills - illustrate the often surprising history of the garments women have worn for support - and seduction.
---