The Age of Undress by Amelia Rauser.
Dress in the Age of Jane Austen by Hilary Davidson.
Jane Austen at Home by Lucy Worsley 
---
Abbotsford, desk and chair of Sir Walter Scott.
THE desk so long used by Sir Walter, and "his own huge elbow chair," are familiar to all who have visited Abbotsford. It was copied from one at Rokeby, as we learn by the following passages in a letter to Mr. Morritt which bears the postmark of 23rd May 1810: "I have a little commission for you if you will be kind enough to accept of it. You know I fell in love with your library table, and now that the 'Lady' has put crowns into my purse I would willingly treat myself to the like. Only I think I have not much occasion for the space which holds accompt- books in other respects it is quite a model, and in that respect I don't quarrel with it, for why should I not be a rich man some day and have accompt -books? And therefore I intrude so far on your time as to request you when you are taking a walk to order me such a table as yours."
The desk cannot be better described than in Mr. Lockhart's words. They relate to it as he first saw it in the "Den" in Castle Street in 1818. "The only table was a massive piece of furniture which he had had constructed on the model of one at Rokeby; with a desk and all its appurtenances on either side, that an amanuensis might work opposite to him when he chose; and with small tiers of drawers, reaching all round to the floor.
The top displayed a goodly array of session papers, and on the desk below were, besides the MS. at which he was working, sundry parcels of letters, proof-sheets, and so forth, all neatly done up with red tape. His own writing apparatus was a very handsome old box, richly carved, lined with crimson velvet, and containing ink-bottles, taper-stand, etc., in silver, the whole in such order that it might have come from the silversmith's window half an hour before."
And again what can be more pathetic than Mr. Lockhart's description of the opening of the desk on that sad day fourteen years later? "But perhaps the most touching evidence of the lasting tenderness of Sir Walter's early domestic feelings was exhibited to his executors when they opened his repositories in search of his testament, the evening after his burial. On lifting up his desk, we found arranged in careful order a series of little objects which had obviously been so placed there that his eye might rest on them every morning before he began his tasks. These were the old-fashioned boxes that had garnished his mother's toilette, when he, a sickly child, slept in her dressing-room the silver taper-stand which the young advocate had bought for her with his first five guinea fee a row of small packets inscribed with her hand, and containing the hair of those of her offspring that had died before her his father's snuff-box and étui case, and more things of the like sort, recalling.
Source: Abbotsford; the personal relics and antiquarian treasures of Sir Walter Scott. Illustrated by William Gibb. By Maxwell-Scott, Mary Monica. London A. and C. Black 1893.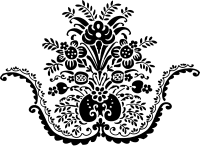 Related
---
Support and Seduction: The History of Corsets and Bras (Abradale Books) by Beatrice Fontanel.
Thoughout the ages, women's breasts have been subjected to the endless whims of fashion. From the ancient Greeks to Mae West and Madonna, this light-hearted book charts the changing shapes of female beauty. The elegant and amusing images - including fashion drawings, paintings, photographs, and film stills - illustrate the often surprising history of the garments women have worn for support - and seduction.
---
The Age of Undress by Amelia Rauser.
Dress in the Age of Jane Austen by Hilary Davidson.
Jane Austen at Home by Lucy Worsley 
---