Catherine Howard. Queen of England, fifth wife of King Henry VIII.
Portrait of Hans Holbein the Younger.
Catherine Howard c.1521 – 1542. She was from 1540 until 1541 Queen of England and the fifth wife of King Henry VIII.
Henry VIII. and Catherine Howard were married on July 28, 1540 at Oatlands Palace, in Surrey, immediately after the annulment of the marriage with Anne of Cleves.
CATHERINE HOWARD was the fifth wife of King Henry the Eighth. She was the daughter of Edmund, third son of Thomas Duke of Norfolk, by Joyce, daughter of Sir Richard Colepeper. The impression which her exquisite beauty had made on the King, probably contributed more than any other motive to forward his divorce from Anne of Cleves, and he married Catherine in the beginning of August 1540, within a few days after the Parliament had ratified the affirmative judgment of the Convocation on that measure. She seems to have acquired an higher ascendancy over the heart of Henry than any other of his queens.
The progress of the Reformation was considerably impeded by her influence; the Roman Catholics regained no small degree of favor at Court through her countenance; and her own illustrious family, in particular, seemed to enjoy the King's perfect confidence; nay, so determined was Henry to manifest to his whole realm his affection for her, that he actually commanded, and assisted at, a solemn public thanksgiving for the blessing bestowed on him in such a wife.
The event of the very next day after that ceremony cut short his hopes of conjugal happiness. He received from Cranmer an account which had been given to that Prelate during the late royal progress into the North, of the Queen's scandalous life: that before her marriage she had indulged two of the domestics of her grandmother, the Duchess Dowager of Norfolk, named Dierham, and Mannock, as well as a gentleman of the name of Colepeper, with every degree of intimacy: that, since her elevation, she had taken the former of those men into her household, no doubt with the view of continuing the same conduct; and that the vile Lady Rochford, whose intrigues had ruined Anne Boleyn, had been entrusted with these infamous secrets.
Henry is said to have shed tears on this dreadful discovery. Having recovered from his first passion of grief and anger, he summoned his Council, and, after examining the persons from whom Cranmer had received his intelligence, gave orders for the instant apprehension of the criminal parties, who without hesitation confessed the whole charge, with many additional circumstances which proved that Catherine had long lost all sense of modesty, and even of shame. She herself was inclined to deny the accusation, till she found that the declarations of her paramours had rendered it fruitless.
At length she signed a full confession, and was thereupon attainted, together with the Lady Rochford, of high treason, by an act of parliament which also declared most of her family guilty of misprision of treason, and contained a clause to this extraordinary effect-that if in future the King, or any of his successors, should marry any woman as a virgin who should prove to be otherwise, and she concealed her fault from him, such concealment should be deemed high treason; and that all others who knew it, and kept it secret, should be guilty of misprision of treason. This absurd law was repealed in the following reign.
Dierham, Mannock, and Colepeper, having been executed immediately after their confession, nothing remained but to fulfil the sentence on the Queen and the Lady Rochford, who were brought to the scaffold on the twelfth of February 1541-2, when Catherine, having confessed her antcnuptial frailties, and strenuously asserted her continence since her marriage, suffered death, together with the wretched ministress to her guilty pleasures.
Source: Imitations of original drawings by Hans Holbein in the Collection of his Majesty for the Portraits of Illustrious Persons of the Court of Henry VIII. With biographical tracts. Published by John Chamberlaine, Keeper of the Kings Drawings and Medals and F.S.A. London: Ptinted by W. Bulmer and Co. Shakespeare Printing Office. 1792.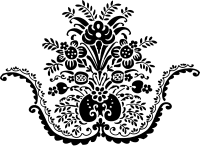 The American Duchess Guide to 18th Century Dressmaking: How to Hand Sew Georgian Gowns and Wear Them With Style by…
Cols de lingerie empesée. Tissu à carreaux rouges, Cachemire blanc, Volant de dentelle de Chantilly noire. L'histoire du costume féminin…
---
---
---
Sgian dubh is a traditional Scottish knife, also known as "stocking dagger". Since the 18th century the Sgian dubh belongs…
Related