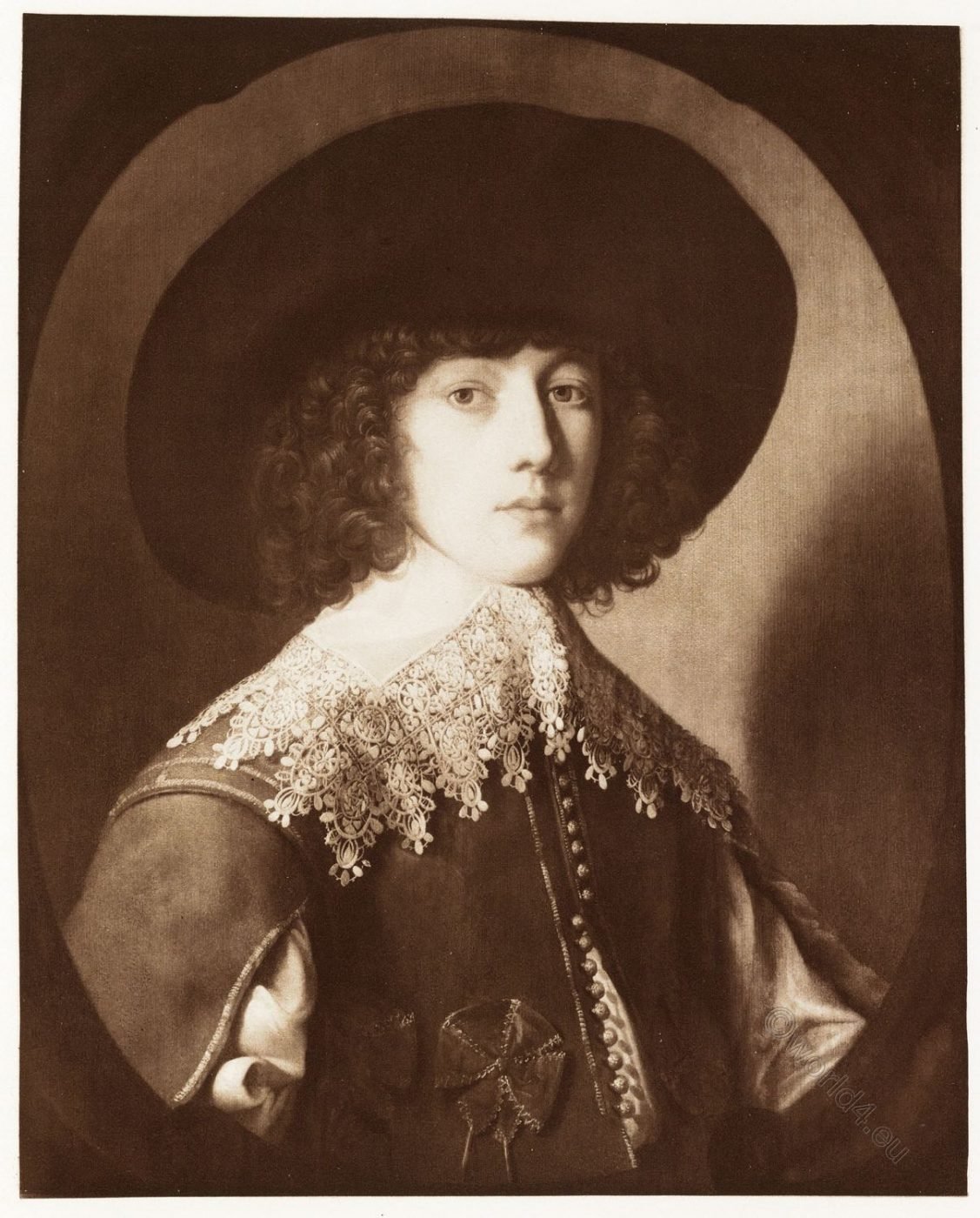 Prince Rupert of the Rhine (1619 – 1682), called Rupert the Cavalier, was Prince of the Palatinate from the house of the Wittelsbacher as well as Duke of Cumberland and Earl of Holderness since 1644. He was generalissimo of all English armies and later led the royal fleet as Lord High Admiral.
PRINCE RUPERT, COUNT PALATINE OF THE RHINE. WILTON HOUSE PICTURES.
GERARD VAN HONTHORST. 30 in. H. 23½ in. W. Panel. Corner Room. Wilton House.
Head and shoulders, turned slightly to his left, wearing a gray slashed coat, on which are several laced bows, a deep Vandyked lace collar and wide round felt hat; pale complexion and long brown curls falling on his shoulders.
This portrait, which is one of the gems of the Wilton Collection, was attributed by all the early cataloguers to Van Dyck, and all agree in calling it a portrait of Prince Rupert except Kennedy, who writes: "A Gentleman, supposed to be Prince Rupert," proving that as early as the middle of the eighteenth century there was a doubt as to the accuracy of this assertion. Dr. Waagen seems to have been the first to challenge Van Dyck's claim. "Among these (pictures ascribed to Van Dyck)," he writes, "is a portrait of Prince Rupert, which I take to be a good picture by William Honthorst."
There seems to be nothing in the picture to justify the Van Dyck attribution, and at first sight it seems impossible that so excellent a portrait, both in colour and sentiment, could be the work of either of the Honthorst brothers. However, after an exhaustive comparison of the Wilton panel with the works of such painters as Michiel Miereveld, Paulus Moreelse, Cornelis Janssens, Dirck Santvoort and the two Honthorsts, I have come to the conclusion that this portrait must be considered the masterpiece of Gerard Honthorst (Gerrit van Honthorst, Utrecht 1590 – Utrecht 1656).
It is a matter of some difficulty to decide from the many contemporary engravings and miniatures whether this may be called a portrait of Rupert rather than of his elder brother Charles Louis, Elector Palatine.
In 1635 Charles Louis, who had just attained the age at which he was entitled to assume the rank of Prince Elector Palatine, was summoned to England by Charles I. He is described by the Earl of Strafford as "a very handsome young Prince, modest, and very bashful." 1) Rupert, who joined his brother in England early in 1635, being then sixteen years old, had already made his first campaign and earned the name of "Rupert le Diable," we should therefore expect him to be more robust in feature than his brother, and of the type shown in his portrait by Honthorst at the Louvre, wherein he is a rosy, almost coarse-featured, youngster, in steel cuirass and sash, fresh from the camp.
Van Dyck, again, in the full-length portrait at Vienna, gives the same robust character to his face, but there is more resemblance in feature to the Wilton picture. In the private collection of the German Emperor at Berlin there are two miniatures, one of Prince Rupert and one of Charles Louis, by Alexander. These are undoubtedly authentic, and in them the resemblance between the two brothers is most striking, but Rupert has dark hair and Charles Louis light.
If this could be accepted as final it would settle the question of identity in favor of Prince Rupert, but the Duke of Buccleuch possesses a miniature by Peter Oliver of Charles Louis with dark hair, and the Ickworth Van Dyck of the same Prince is similar in color. All that can be said therefore is that this picture represents either one or the other of the two brothers, and as tradition points to Prince Rupert, his claim has been given the preponderance. 2)
Prince Rupert, Count Palatine of the Rhine and Duke of Bavaria, third son of Elizabeth, Queen of Bohemia, and Frederick V, Elector Palatine, was born at Prague in 1619. The Wilton portrait was therefore painted about the year 1636, shortly after his arrival at the Court of Charles I, by his old drawing-master, 3) Honthorst, who had been employed in England since 1628.
Prince Rupert's career during the civil war is too well known to need recapitulation here. After the Restoration he became a Privy Councillor and was Admiral of the White at the battle of Solebay, sharing the command with Monck against the Dutch in 1666. He rose to the rank of Vice-Admiral of England in 1672, and the next year was made Admiral of the Fleet. Prince Rupert died in 1682, and was buried in Henry VIIth's chapel in Westminster Abbey.
1) Despatches (Ed. 1739), vol. i, p. 489.
2) If this is correct, it is probable that the Castle Howard Van Dyck, now called Charles Louis, Count Palatine, and which was formerly in the Orleans Gallery, where it passed as a portrait of James, Duke of York, also represents Prince Rupert. Perhaps a solution of the whole difficulty may be found among the portraits in the Royal Collection at Hanover.
3) According to Walpole, Gerard Honthorst was drawing-master to the Queen of Bohemia and her children.
Source: Wilton house pictures; containing a full and complete catalogue and description … by Sidney Herbert Earl of Pembroke. London, Printed at the Chiswick press, 1907.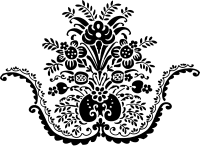 Related