GRANDE ROBE A LA FRANÇAISE. (Marie Antoinette)
Court dress of Versailles during the reign of Louis XVI.
Young lady of quality in a large dress with an elegant bonnet or Pouf called the Victory.
"Grande Robe à la Française, with closed body. This dress, which is pleated at the back, like all other French dresses, has no pleats at the front: it is low-cut and busty like a sheath, and the body appears as if isolated in the centre of a vast and rich drapery; it requires an elegant waist. It is only suitable for brilliant youth.
"The facing is of blond, with straight pleats, and trimmed all around with a little gathered blond; the pleats of the facing are cut into a train by two barriers of eight brooches with lost head, under two bands of gathered blond, the lower end of which drops obliquely a ribbon with brooch) held by tassels; The top of the facing is finished with a third ribbon brooch, which marks the waist and makes its lightness felt; two straight, gathered bands complete the bodice, which is busted at the point; between the tassels on the facing are bunches of flowers, two on the front and three on the back.
"Very high, straight-pleated falbala, cut by two barriers, similar to those on the facing, set in a crescent shape and meeting at one end in the centre of the valance, beneath a bouquet of flowers held in place by a floating tassel.
"The head of the falbala, fitted with a gathered band, from which emerges a bubbled ribbon garland, describing in its course a half-oval, broaching on the left barrier, and dominated by the right barrier: a gathered band, is placed below the barriers and forms a frame with the previous one.
"Three rows of cuffs, trimmed with bows and protected by the cuffs of the dress, with a headpiece trimmed with a barrier similar to that of the facing; around the throat, a ruff or médicis of black blonde, higher on the back than on the front.
"Pearl necklace, set in a stream, fastened by two gold tassels, resting on perfect-content.
"A curl with a high, temperamental phisionomia, or an open, protruding shell, with four loose curls; the confidant pulled down in front of the ear, adorned with pearl curls; the shell or phisionomia caressed by a string of pearls set in a band.
"This is a very elegant pouffe, encircled by a double branch of laurel and shaded by a plume of three ostrich feathers in assorted colours. A large gauze bow, with two gathered and floating flames, occupies the back of the head.
"This garment, which is no less noble than it is pleasing, goes perfectly with the most precious fabrics and is considered to be the greatest dress, the dress adorned by the French Darnes."
Source: Galerie des Modes et Costumes Français Dessinés d'Apres Nature 1778-1787. Réimpression accompagnée d'une préface par M. Paul Cornu. Émile Lévy, Éditeur. Librairie centrale des beaux-arts 1912.
Jeune Dame de Qualité en grande Robe coëffée avec un Bonnet ou Pouf élégant dit la Victoire.
«Grande Robe à la Française, au corps fermé. Cette robe plissée par derrière, comme toutes les autres robes à la Française, n'a aucuns plis par devant: elle est décolletée et busquée comme un fourreau, et le corps paraît en quelque sorte isolé au centre d'une vaste et riche draperie, elle exige une taille élégante. Ce n'est qu'à la brillante jeunesse qu'elle peut convenir.
«Le parement est de blonde, à plis droits, et garni tout autour d'une petite blonde froncée; les plis du parement sont coupés en traîne par deux barrières de huit bouillons à tête perdue, sous deux bandes de blonde froncées, dont l'extrémité inférieure laisse tomber obliquement un ruban à bouillon) retenu par des glands; le haut du parement est terminé par un troisième bouillon de ruban, qui marque la taille et en fait sentir la légèreté; deux bandes droites et froncées font toute la garniture du corsage, busqué en pointe; entre les glands du parement sont placés des bouquets de fleurs, deux sur le devant et trois sur le derrière.
«Falbala très haut, à plis droits, coupé par deux barrières, semblables à celles du parement, posées en croissant et venant se réunir par une de ses extrémités au centre du volant, sous un bouquet de fleurs qu'un gland flottant tient en arrêt.
«La tête du falbala, munie d'une bande froncée, d'où sort une guirlande en ruban bouillonné, décrivant dans sa course un demi-ovale, brochant sur la barrière gauche, et dominé par la barrière droite: une bande froncée, est placée au-dessous des barrières et forme encadrement avec la précédente.
«Manchettes à trois rangs, garnies de leurs nœuds et protégées par les manchettes de la robe, à tête garnie d'une barrière pareille à celle du parement; autour de la gorge, une collerette ou médicis de blonde noire, plus haute sur le derrière que sur le devant.
«Collier de perles, mis en rivière, attaché par deux glands d'or, reposant sur le parfait-contentement.
«Frisure à la phisionomie élevée et à tempérament, ou à la coque ouverte et saillante, avec quatre boucles détachées; le confident abattu devant l'oreille, ornée de boucles en perles; la coque ou phisionomie caressée par un rang de perles mis en bandeau.
«Bonnet à la victoire; c'est un pouf très élégant, ceint d'une double branche de laurier, et ombragé par un panache à trois plumes d'autruches de couleurs assorties: un large nœud de gaze, avec deux flammes froncées et flottantes, occupe le derrière de la tête; chignon bombé, soutenu par un ruban uni.
«Cet habillement, non moins noble qu'agréable, s'accorde parfaitement avec les étoffes les plus précieuses et passe pour la plus grande robe, la robe parée des Darnes Françaises.»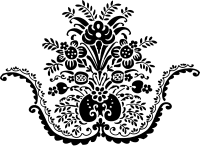 Related
---
Support and Seduction: The History of Corsets and Bras (Abradale Books) by Beatrice Fontanel.
Thoughout the ages, women's breasts have been subjected to the endless whims of fashion. From the ancient Greeks to Mae West and Madonna, this light-hearted book charts the changing shapes of female beauty. The elegant and amusing images - including fashion drawings, paintings, photographs, and film stills - illustrate the often surprising history of the garments women have worn for support - and seduction.
---