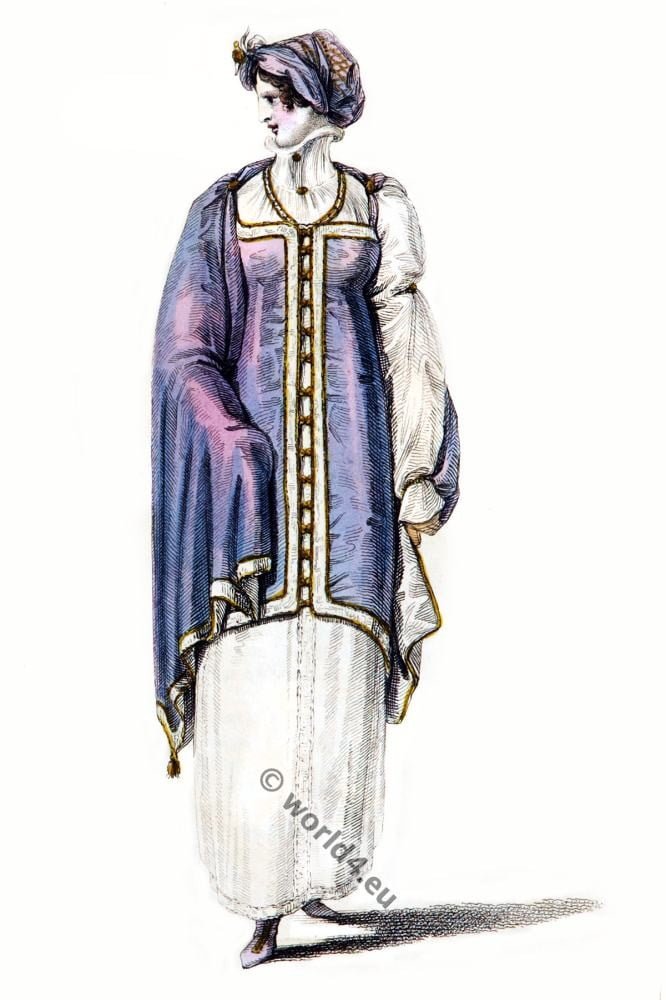 Regency walking dress. April 1809.
Fashions for ladies and gentleman.
A tunic of lilac silk, clasped down the front with gold ornaments; a cloak of the same colour attached, so as to unite closely behind, but to fall loose over the shoulders; fixed on the shoulders with golden ornaments: the cloak is lined with white or straw-colored silk, and ornamented with a border of gold.
Bonnet and boots of the same colour. Raised spotted muslin underdress, with loose sleeves, bound at the arms and wrist. Gold necklace, and York tan gloves.
Source: The repository of arts, literature, commerce, manufactures, fashions, and politics. London: Rudolph Ackermann.
Related
The GALLERY OF FASHION 

by Nikolaus von Heideloff.

Incroyables et Merveilleuses by Horace Vernet.
---
From the ancient Greeks to Mae West and Madonna, this light-hearted book charts the changing shapes of female beauty. The elegant and amusing images - including fashion drawings, paintings, photographs, and film stills - illustrate the often surprising history of the garments women have worn for support - and seduction.
---