DURING near three centuries, scarcely any single literary production (if we except the English poem of Piers Ploughman) enjoyed so great a popularity as the French poem called the Roman de la Rose.
This famous Romance, which represents in an extravagant kind of allegory the perils and hurts which the lover encounters in the pursuit of his object (a kind of Gothic ars amandi) was named Guillaume de Lorris, who died about the year 1260; and it was continued by Jean de Meun, a man of rank and fortune, as well as a poet of high reputation, who finished it about A. D. 1305.
OLD AGE AND POVERTY.
Very little is known of the personal history of either of these writers. Their work frequently transgresses all our notions of delicacy; but this was not its greatest fault in the age when it was most read: it is filled with bitter satire against the monks, and even contains some notions on politics which arc more liberal than were then likely to be agreeable to everybody.
The consequence was, that the book was at times persecuted; and one of the great pillars of the church said, that he would no more condescend to pray for the soul of its author, than he would for that of Judas who betrayed Christ. This poem is still interesting as a singularly curious monument of the literature of the Middle Ages. It was translated partly by Chaucer, of whose version only a portion is preserved, the part which was most objectionable in those days, and least in ours; for we have the political satire, and the indelicacies are lost, if they were ever translated.
It would be impossible to point out any miniature more beautiful than the illuminations which enrich the splendid copy of the Roman de la Rose, in MS. Harl. No. 4425, executed about A. D. 1480. The two given on the accompanying plate may be considered as elegant illustrations of Chaucer, from whose translation we quote rather than from the French original. The lover, falling asleep in the "merry month of May," dreams that he arises early and quits the town for the country,-
"The sound of birdes for to heare,
That on the buskes singen cleare."
At length he arrives at a fair garden, enclosed by a strong wall, on the exterior of which are painted in compartments, the principal passions and troubles of life, Hate, Covetousness, Sorrow, Envy, &c. Among the rest, appeared Old Age,-
"That shorter was a foot, i-wis,
Than she was wont in her yonghedc.
A foule for-welked thing was she,
That whilom round and soft had be;
Her heeres shoken fast withall,
As from her head they would fall;
Her face frounced and for-pined,
And both her honds lorne for-dwined.
So old she was, that she ne went
A foot, but it were by potent." (i. e. with a staff).
Last of all, and apart from the rest, was the figure of Poverty :-
"She ne had on but a straite old sacke,
And many a cloute on it there stacke;
This was her cote, and her mantele,
No more was there never a dele
To cloath her with; I undertake,
Great leaser had she to quake.
And she was put, that I of talke,
Ferre fro these other, up in an halke;
There lurked and there coured she,
For poore thyng, where so it be,
Is shamefast and dispised aie.
Accursed may well be that daie,
That poore man conceived is!"
Our initial letter D, not inappropriate in its design to the subject of gardens and roses, is taken from a copy of the Offices of the Virgin, among Douce's MSS. at Oxford, of the latter end of the fifteenth century. The elegant little fountain at the foot of this page, forms one of the embellishments of a fine MS. of the reign of Edward V. (MS. Reg. 15, E. IV.)
Source: Dresses and Decorations of the Middle Ages by Henry Shaw F.S.A. London William Pickering 1843.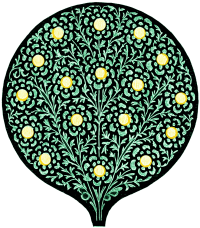 Related