Tag:
Cotehardie
The Cotehardie was a full-length gown of the Middle Ages between 14th and 16th century. Usually at the upper body close-fitting dress with a round neckline and starting at the waist into a full skirt. This dress was worn in different variations of both men and women.
Auguste Racinet. The Costume History Hardcover – Illustrated, November 4, 2015
by Françoise Tétart-Vittu (Author)
Racinet's Costume History is an invaluable reference for students, designers, artists, illustrators, and historians; and a rich source of inspiration for anyone with an interest in clothing and style.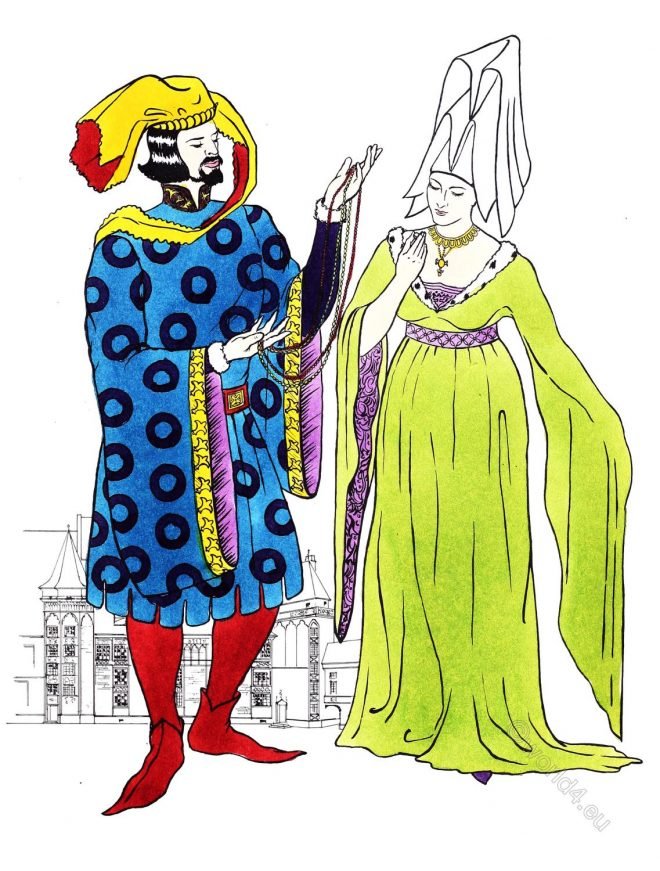 History of Costume. The chaperon, cote-hardie, houppelande, liripipe, poulaines. Fashion of the middle ages.
The two people in this plate lived very late in the 14th Century and were probably young fashionables who were up to the minute in their styles.
Literature
Couture: then and now Clothes define people. A person's clothing, whether it's a sari, kimono, or business suit, is an essential key to his or her culture, class, personality, or even religion. The Kyoto Costume Institute recognizes the importance of understanding clothing sociologically, historically, and artistically.
---