Louise Bénédicte de Bourbon-Condé, Duchesse du Maine 1676-1753.
Coiffure Louis XIV.
Louise Bénédicte de Bourbon, Mademoiselle d'Enghien, then Mademoiselle de Charolais, after her marriage Duchess of Maine (8 November 1676 in Paris; – 23 January 1753 ibid.), was a French high aristocrat.
She liked to be the centre of a small court, gathered intellectually interested nobles as well as literati around her, and in 1718 was the driving force behind a conspiracy against the regent Philip of Orléans, the Cellamare conspiracy.
She was granddaughter of the Great Condé, daughter of the first Prince by blood Henri Jules de Bourbon-Condé, Prince of Condé, and Countess Palatine Anna Henriette of Palatinate-Simmern. As a member of the reigning House of Bourbon, she was a princesse du sang. On 19 March 1692 she married Louis Auguste I de Bourbon, duc du Maine, the legitimate son of Louis XIV and Madame de Montespan.
In her castle in Sceaux she maintained a small court, which was called "la petite cour de Sceaux" in comparison to Versailles. She wallowed in politics, the arts and held a popular salon at the Hôtel du Maine as well as at the Château de Sceaux. Famous were the nightly costume parties, the famous grandes nuits, in which the king also took part, and theatre performances in which she herself shone.
Her circle was a centre of attraction for numerous writers and artists. This circle was also called the Order of the Honeybee (French Ordre de la Mouche à Miel). The members had to swear obedience to her as the "Queen Bee".
The Cardinal of Polignac also spent a lot of time in Sceaux before 1718, where he read from his Latin poetry Anti-Lucretius. According to the Duchess of Orleans' memoirs, he was the Duchess's lover.
Because of her temperament – she could become quite violent in her outbursts of rage – she was occasionally given the nickname Donna Salpetria, and in allusion to the bee in her coat of arms she was also called la mouche à miel. According to the Duchess of Orleans and mother of the regent, Liselotte of the Palatinate, she totally dominated her husband.
The Duchess was educated (Jean de La Bruyère had been one of her teachers) and was also active as a writer.
Source: Albums de coiffures historiques par E. Nissy. Editeur: Albert Brunet, Paris c. 1860.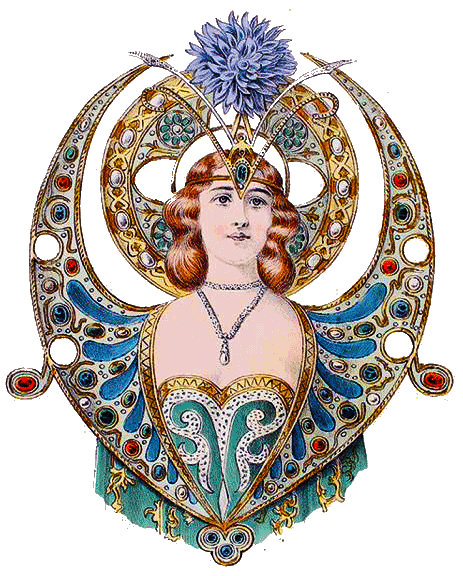 Continuing
---
Support and Seduction: The History of Corsets and Bras (Abradale Books) by Beatrice Fontanel.
Thoughout the ages, women's breasts have been subjected to the endless whims of fashion. From the ancient Greeks to Mae West and Madonna, this light-hearted book charts the changing shapes of female beauty. The elegant and amusing images - including fashion drawings, paintings, photographs, and film stills - illustrate the often surprising history of the garments women have worn for support - and seduction.
---