PETITE ROBE. 1778.
Elegant little dress in striped Indian taffeta, trimmed in Pouf, the trim in the same fabric, c. 1778.
Elégante en petite robe de Taffetas de Indes rayé, garnie en Pouf, la garniture de même étoffe.
«Petite robe de taffetas des Indes rayé, garnie en pouf de gaze rayée; manches en pagodes, avec des bons-hommes j volant très haut, timbré en chef d'une garniture pareille à celle de la robe, et dominé par une autre bande mise en barrière.
«Mantelet de taffetas noir, dont les extrémités de la capuce viennent se perdre sous le contentement; on les appelle mantelets à coulisses; ils sont maintenant les seuls en honneur, excepté parmi les dévotes et certaines femmes que I'âge ou d'autres raisons obligent de paraître le sein à couvert.
«Coëffure à quatre boucles, la quatrième tombant sur l'épaule, accompagnée de son conlident; bonnet à barbes retroussées par derrière, et froncées à leur extrémité; ruban en barrière, sortant du milieu du papillon.
«Chaussure à grand talon, avec des boubles quarrées, suivant la mode du jour.
«Cette Élégante vient d'ôter un de ses gants, et d'une main qu'elle pose sur son sein, elle jure à son amant, sur ce qu'elle a de plus cher, d'être toujours tendre, toujours lidelle: tiendra-t-elle sa promesse? Eh! qu'importe! la rose ne dure qu'un matin; il Y aurait peut-être de J'injustice à exiger que les serments eussent la même durée. »
Designed by: Pierre-Thomas LeClerc (French, about 1740–after 1799)
Engraved by: Nicolas Dupin (French)
Publisher: Esnauts et Rapilly (French, 18th century)
Source: Galerie des Modes et Costumes Français Dessinés d'Apres Nature 1778-1787. Réimpression accompagnée d'une préface par M. Paul Cornu. Émile Lévy, Éditeur. Librairie centrale des beaux-arts 1912.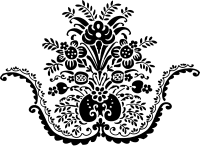 Related
---
Support and Seduction: The History of Corsets and Bras (Abradale Books) by Beatrice Fontanel.
Thoughout the ages, women's breasts have been subjected to the endless whims of fashion. From the ancient Greeks to Mae West and Madonna, this light-hearted book charts the changing shapes of female beauty. The elegant and amusing images - including fashion drawings, paintings, photographs, and film stills - illustrate the often surprising history of the garments women have worn for support - and seduction.
---