ENAMEL DISH
By Pierre Courteys, Limoges.
SIXTEENTH CENTURY.
Mr. George Salting's Collection.
The subject painted in this dish is an allegory of Spring. A female figure sits in a chariot drawn by two bulls, two rams, and two doves, and all round the border, preceding and following her, are youths and maidens in antique costume dancing to the music of a viol, a lyre and a panpipe. In the background peasants are labouring in the fields.
It is the work of an enameller of Limoges, Pierre Courteys, who may be regarded as a pupil and imitator of Pierre Raymond. The date of his birth is uncertain; 1545, detected by Ardant on an enamel by Courteys is the earliest date we can associate with his name. He painted in grey monochrome, the figures slightly tinted with flesh colour. One of his most important works is in the Louvre, a series of sixteen plaques representing the scenes of the Passion, executed for the Château of Ecouen.
Some of those he painted for the Château of Madrid, in the Bois de Boulogne, are preserved in the Cluny Museum.
Source: Treasures and masterpieces of art. Shown at the 5th World's Fair in Paris (Exposition universelle de 1900), by Gaston Migeon. Paris: Goupil & cie, 1901.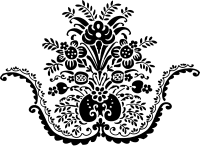 Continuing