Lady Jane Grey declining the english crown
by Robert Smirke.
Lady Jane Grey (c.1536 – 1554) was an English noblewoman and the de facto Queen of England for nine days. She was the eldest surviving daughter of Henry Grey, 1st Duke of Suffolk, and his wife Frances Brandon. 
Her maternal grandmother was Mary Tudor Brandon, the younger sister of Henry VIII. Jane Grey is one of the most popular figures of the Tudor period. 
One reason for this is that there are no contemporary, clearly identified portraits of her. Also, there are no contemporary descriptions of Jane. 
Jane Grey claimed in 1553 for a short time the title of Queen of England. Since then, she has been dubbed The Nine Days' Queen or The Thirteen Days' Queen.
Engraved by William Bromley, from Hume's The History of England, circa 1793.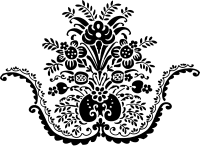 Cols de lingerie empesée. Tissu à carreaux rouges, Cachemire blanc, Volant de dentelle de Chantilly noire. L'histoire du costume féminin…
Early Victorian. 1840-1865. The crinoline of the mid-forties was probably the most concealing costume ever worn by women.
English Tudor fashion in the XVI. Century. Top row left to right: Henry VIII, Anne of Cleves. Right: Clothing of…