Marguerite de Valois 1553–1615.
Queen of France.
Marguerite de Valois, daughter of Henri II of France, and first wife of Henri IV, the victor of Ivry, was born in 1553, divorced from Henri IV in 1598, and died in 1615. She is sometimes confounded with that other Margaret of Valois *), the grandmother of Henri IV, who wrote the celebrated "Heptameron des Nouvelles," modelled on Boccaccio's "Decameron."
*) Marguerite de Navarre also Margaret of Angoulême, Margaret of Valois or Margaret of France, was the elder sister of King Francis I and, as the wife of Henri d'Albret, Queen of Navarre.
Before the assassination of Henri III by the Dominican monk Clement, an event which paved the way for the accession of Henry of Navarre to the throne of France as Henri IV, Marguerite was given in marriage, for state reasons, to the new monarch. Her married life was on the whole unhappy, Henri's amours and his fondness for the children of his mistresses being a continual source of bitterness to her. She was fated to undergo hatred and suspicion at the hands of both Protestants and Catholics, due probably to the undecided attitude she took on the religious questions that vexed the time.
"The Memoirs of Marguerite de Valois" appeared first in 1628, thirteen years after the death of their witty and beautiful author. They contain many particulars of Marguerite's life, many anecdotes hitherto unknown, and the secret history of the Court of France during the eventful years comprised in the period 1565-82, including the massacre of Saint Bartholomew, the formation of the League, and the peace of Sens, and an account of the religious struggles which were then raging so bitterly. After the dissolution of her marriage with Henri IV, at which time she was forty-five years of age, she retired, whether under compulsion is not certain, to the castle of Usson, built on a mountain near the little town of that name in Auvergne, and the "Memoirs" appear to have been composed in that retreat, though little of this period of her life is known.
Brantome, in his memoirs of his own time, has given us anecdotes of Marguerite during this quiet evening of her life, and, if we may believe him, the divorced queen's hours were spent in great part in reading, poetry, and music. From what Brantome and Ronsard say concerning Marguerite's personal appearance we gather that she was graceful in person and figure, happy in her choice of dress, and majestic in appearance. To personal charm she added wit and affability, and from a letter extant, addressed by her to Brantome, it seems that she bore herself in her enforced retreat with a spirit of genuine piety and resignation.
Source:
The political, social, and literary history of France. Brought down to the middle of the year 1874. By the Rev. Dr. Cobham Brewer
"Modes et Costumes Historiques". Drawing by Xavier Willemin. Edited and steel engraving by Hippolyte Louis Emile and Polidor Jean Charles Pauquet. Published by Cassell, Petter & Galpin London, 1864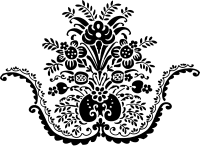 Related