Prussian army uniforms c. 1870. Franco-Prussian war.
Sub officer-bearer of the 2nd Guard Regiment. Officer 4th Regiment of the Queen Augusta. Armée prussienne. Sous officer Porte-Drapeau du 2e Règiment de la Garde. Officer du 4e Règiment de la Reine Augusta.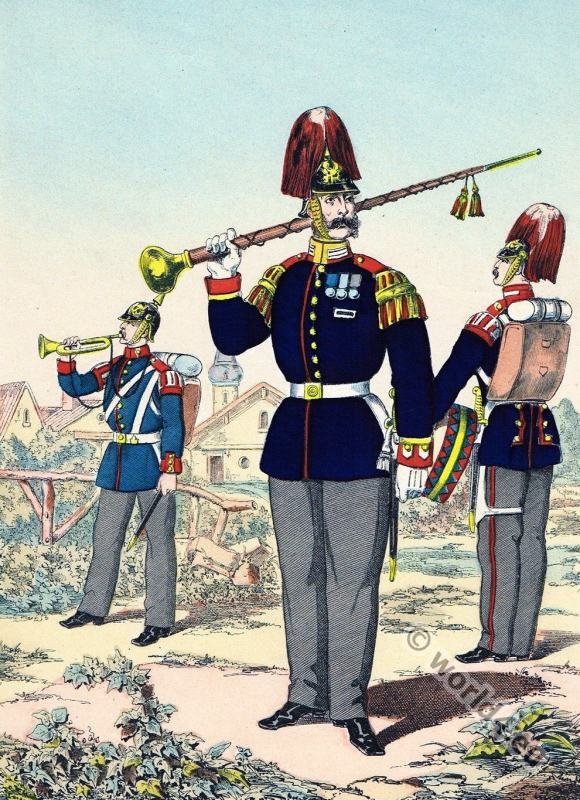 Bugle Grenadier of Brandenburg. Drum Major or Field Commander of the Regiment of the Foot grenadiers, 2nd. Guard Regiment. Drummer. Clairon des Grenadiers de Brandebourg. Tambour Major du Règiment des Grenadiers à pied, 2e. Règiment de la garde. Tambour.
The Royal Prussian Army was the army of the Prussian state from 1701 to 1919. It emerged from the existing 1644 standing army of Brandenburg-Prussia. In 1871 entered teh Royal Prussian Army into the German army. In 1919 dissolved as a result of the defeat of the German Empire in the First World War. One of the most striking features of the Prussian army, that determines their image to the present day, had its important social role.
Their influence in the civilian part of the political system became the epitome of Prussia as a militaristic state. The Franco-German War 1870-1871 was a military conflict between France on one hand and the North German Confederation under the leadership of Prussia and the allied with him southern German states of Bavaria, Württemberg, Baden and Hesse-Darmstadt on the other. This was triggered by the dispute between France and Prussia on the question of the Spanish throne candidacy of a Hohenzollern prince.
Source: "Franco-Prussian Armies.", published in Paris by Imp. Pellerin & Cie. à Epinal. Déposé. c. 1872.
Related